Workato For Handling Files | BEGINNER
Almost every platform today allows for some version of file attachments. Take a project management system where you are working amongst engineers or technical resources, handing back and forth technical drawings or specifications. Or a sales system, where you are downloading / revising / re-uploading each version so everyone is always on the same page.
Whats the best way to communicate that? How best do you notify everyone when a new version is available? What if you want to make that file available in a place like DropBox or Box where you can publish documents to your entire team to access once a deal has been signed?
Luckily – Workato has plenty of built in features for accessing, transferring and storing files. The process is such that you host your files in your primary system – Workato acts as the middle man for downloading it – and then re-uploading or sending it where you'd like
Among the various file processing options at your disposal – common examples might include
✓ Transferring the scope of work to a new Jira project when a deal is Won
✓ Archiving Documents to DropBox to archive older versions from your main system
✓ Upload a new Document in Quick Base and have Workato send it as an attachment via Outlook to all of the internal and external stakeholders involved
✓ Copying attachments received in a Shared Email Inbox and transferring them to a secure server using FTP
Lets take the third item as an example:
When I upload a new Project document in Quick Base – I want that to be sent to all of the stakeholders on my project and attach that file in the email
For more info about the basics around setting up a new Recipe – check out this article on Creating your first Workato Recipe
First off – establish your trigger. In this example – we're saying that I want this to occur when I add a new document to my Quick Base project

Next – depending on what system you're interacting with – you likely have to take the step of actually downloading the file in order to get the actual 'File Contents'. Using Workato with Quick Base, it looks something like this:

You would do something similar in Box if your files were being hosted there:

With the actual File Contents in hand – you can now move on to sending your email through Outlook. A more structured example of using Outlook can be found here Using Workato to Send an Email Through Outlook

In your Outlook send email action – there is a space for adding file attachments. In that section, you will include the file content as a new attachment – and you will have completed set up of sending out an email with this document as a new attachment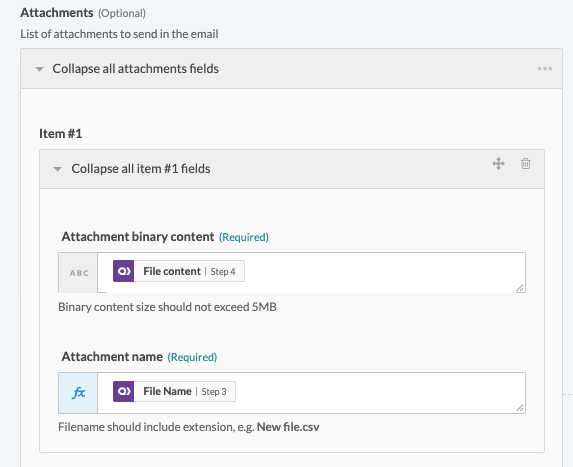 Using Workato in a workflow such as this can be a great time saver when it comes to documents. It eliminates the need for you to open open where the file is hosted – download it to your machine – and then transfer or send it to the next link in the chain. More so – using Workato also empowers you to add and create more comprehensive workflows as extensions of examples like the above, such as utilizing Workato for logging things like email communication
---