Changing A Table Key And When To Use It | INTERMEDIATE
When you create a new table in your Quick Base application several built-in fields are added automatically, one of which is Record ID#. The field Record ID# is referred to as your primary keyor key field and is a unique numerical identifier for each record you create.
In Quick Base Record ID# is a sequential number starting at Record ID# 1. This is a useful way for you, and your Quick Base application, to keep track of records and make sure they all have at least one feature that makes them entirely unique. For every record, the corresponding Record ID# is located in the upper left of the record: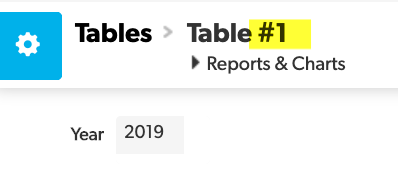 You can change this field anytime, but before doing so, make sure this is something you want to do. Why? Because this can cause your table and its relationships to become unstable. If you need to change the field ID, the connection between that field and all the child records previously associated to it, will be broken. Before you change the Key field it's a good idea to export child records in a spreadsheet, including the key field, in order to have a record of past relationships.
So let's discuss some cases where you might want to change the Key Field (Record ID#):
✓ Changing the Key Field can make syncing or importing data simpler. This way you can keep your system synced to another, such as Salesforce, using the same ID as that outside system. This way, when updates are made to records in Salesforce, these records can be updated in Quickbase using the Key field found in Salesforce
✓ Changing the Key Field can make creating associations to child tables automatic using a Key Field such as year. When a child field is assigned a year, it will automatically make an association. Let's take a closer look at setting up our second example: Make associations to child tables automatic using a Key Field such as year. In this example let's imagine you have a table of 'Years'. Next, you'll have a table of 'Credentials' associated to the 'Years' table as child records.
In order to change your Primary key from Record ID# to a different field:
Go to your 'Years' table. Make sure there is a field called 'Year'.

Create a record and fill in one record with the year '2019'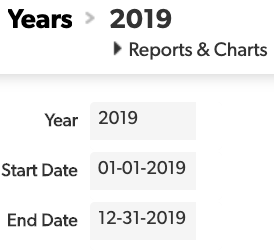 Go to your table settings

Click 'Fields'

Note the Record ID# field has a key icon to the right of the field name

Then click the checkbox next to the 'Year' field and click 'Set Key'. 'Years' will now take the place of 'Record ID#' as the Key Field
Now, in the 'Years' table settings, go to table-to-table relationships and add a relationship to the 'Credentials' table, where there are many credentials to one year.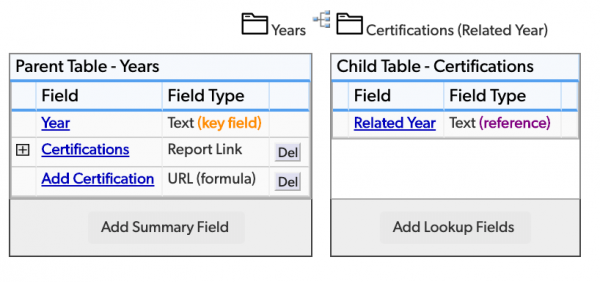 In the 'Credentials' table, add a record and select a year of '2019'. Now, if you go to the year table, you'll find the credential associate to you 2019 record.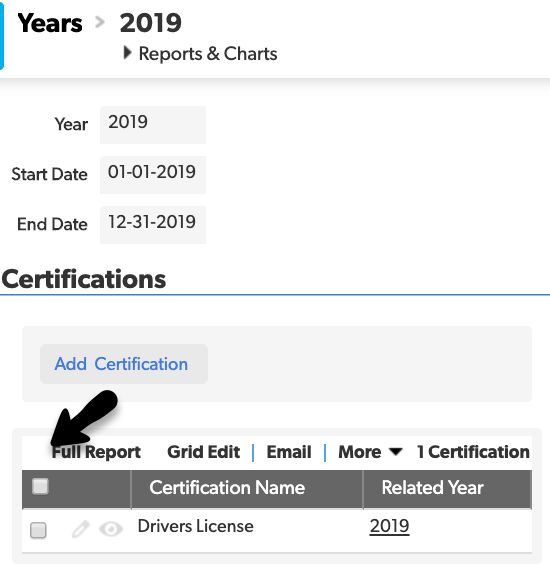 For more articles on imports and managing you table click here
---