Denying User Access | BEGINNER
One of the key responsibilities of a Quick Base Admin is managing your users licenses and access for your current team. A key feature of that includes Denying users access to your realm when they are no longer needed in Quick Base or in your organization. Denying a user means they are completely shut out from your Quick Base realm, and cannot log in to any QB application, even if they are still listed as a user. Common reasons you want to deny users:
✓ They have left your organization and need to remove their license
✓ Remove their access to any applications they own, that you do not have access to
Note – if they were the app owner and you deny them, the application will not be impacted. But it is advised that from the realm settings you re-assign the owner to someone else.
✓ Ensure that someone cannot re-invite them by mistake
EDITORS NOTE: Denying users is specific to Account Admins. Account Admins are those with Full Management of the realm. Differentiate that with an Application Admin, which is someone who has admin rights to update and maintain specific applications.
As a use case – lets say a Senior Manager is leaving your company. Over time, they have built several of their own apps, and have access into several of yours as well. As part of the off-boarding process, you will want to Deny their access to ensure that they are completely removed from Quick Base.
To do so:
Navigate to the 'My Apps' Quick Base Home Page. From there – under the 'Account Admin' section, select 'Manage my billing Account'.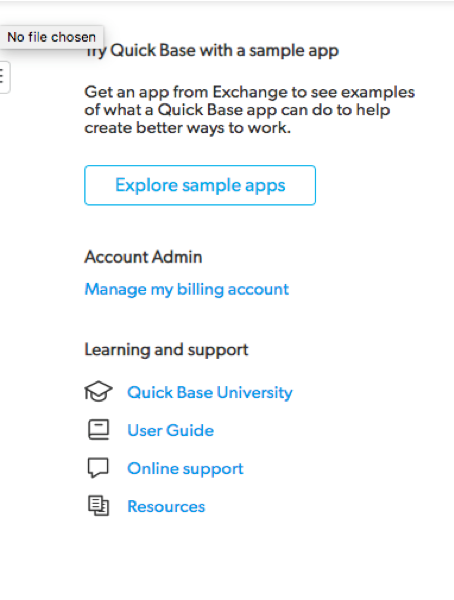 If you do not see this section – it means you are not currently listed with full management of the realm and will need to be added before you can continue.
Select 'Users'
Search for the user(s) you want to Deny. Toggle the checkbox next to their name
Click the 'Deny' button that appears at the top of the list to remove their access

EDITORS NOTE: You can follow the same process to 'Undeny' users, just change step (4) to select 'Undeny' a denied user.
Another important aspect of user management is setting up new roles. Click here to read more about setting up a new role in Quick Base.
---