Quickbase Release Notes – October 2020
New Toggle Switch located in Reports
Quick Base has updated the reports section with a Toggle Switch located at the right of each report. The toggle switch enables the updated table report, with new styling and functionality:

When left off, the report section views in normal mode. You will see your regular columns in the report and the normal search engine above.
When the Toggle Switch is turned on, your report changes to the new styling and formatting and you have the option of applying filters right in the column headers. If there are any hyperlinks in your report, these will be highlighted in blue and will act the same as they did without the toggle turned on.


One of the most exciting features of the new table report is the ability to resize columns, an improvement that has been sought after by most end users for years. While the original table report expands to make data visible, it
Also, included in the Toggle Style are the report saving options: Save Report, Save Report As and Revert Report. These options are also found at the top right with the Toggle Switch is turned on. These options will enable the use the save the report or revert back if a report is saved accidentally without having to return to the original state, and reverting changes can be done without refreshing the entire report.

If the new table style isn't for you but you still desire a different viewing experience, Quick Base offers three universal visibility settings: Relaxed, Normal and Condensed. These settings can be accessed by going to your Preferences and choosing the experience of your liking.
For more on the updated reports section, Click Here .
WeekofYear Formula Addition
Quick Base is constantly adding new features to its realm along with formulas. In October, Quick Base added a formula for WeekofYear. This will enable users to use a formula, instead of building a field, to gather the number of weeks it is into the current year, or determine which week an existing date field resides in. See below where to find this formula in the Formula Operations: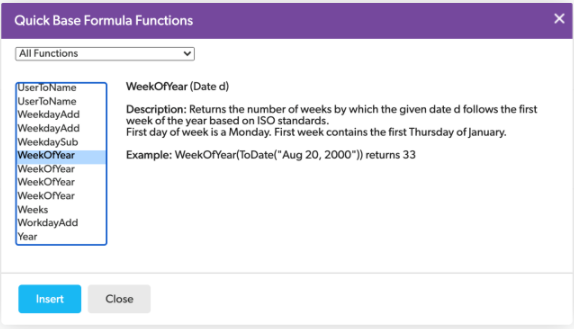 For more information about Quick Base formulas, Click Here.
Other Revisions and Bug Fixes:
Report naming which contained XSS strings did not populate when the Report Toggle Switch was turned on.

When the Report Toggle Switch was turned on, the filters section displayed as enabled even when the dynamic filters were turned off on default reports.
For more information about the October 2020 Release, Click Here.
---
Author: Admin 
Date Submitted: 11/19/2020