Quickbase Release Notes March 2020
New Features
Pipelines:
Earlier this year Quick Base introduced Pipelines and announced additional integration channels that would be rolled out slowly to everyone. This March, Quick Base has added five new integration channels to Quick Base Pipelines:
Dropbox
Mailgun
Microsoft Sharepoint
Shopify
Zuora
To see the full list of available channels and how to connect through Pipelines, click here.
Mobile:
Quick Base has provided an update to the Mobile application. Now, whenever you set up custom branding at either the realm or app level, these colors will appear in the mobile application as well.
Sandbox:
There is now a new, optional, built-in feature for Quick Base's sandbox functionality – "enabling and disabling a sandbox." Realm administrators now have the option to enable or disable the required use of the sandbox on an app-by-app basis from the Admin Console. If a realm administrator turns on the requirement of the sandbox, app builders must use the sandbox environment to make any schema changes and will not have the ability to turn off the sandbox feature.
To learn more about Quick Base's Sandbox details and limitations, click here.
Quick Base Sync Updates: Gmail Connections
Google is pushing new requirements for Gmail connections in connected tables in Quick Base. Quick Base has not been specific on what these changes are; however, existing Gmail connections may fail and will need to be reauthorized by the connection owner.
Here are some easy steps to reauthorize a Gmail connection:
Select the user drop-down on the global bar, then select My Preferences.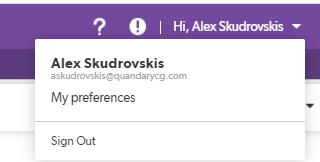 In the My Connections section, select the Gmail connection you want to reauthorize.

Finally, select the Reauthorize button and sign in to your Gmail account.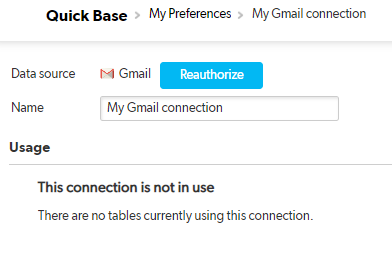 Early Access and Bug Fixes
Upcoming early access opportunities in March include RESTful APIs and a new table report feature. Note: if you are not familiar with what RESTful APIs are, it is essentially a way for two computer systems to communicate over HTTP in a similar way to web browsers and servers using specific REST conventions.
Developers can use and extend Quick Base with ease by using fully RESTful API calls. To learn more about this, click here.
The new table report interface provides an updated way to view, filter, sort, and group Quick Base data. As most new features, Quick Base will slowly roll out early access in waves to customers. If you are interested in signing up for all upcoming new features to Quick Base, click here, and select Using Apps under the Early Access Categories.
Some notable bug fixes include:
The ability to copy apps where sandbox has been enabled
A fix with an issue with sort by record ID for CSV
Fixed an issue with using checkbox fields as a filter criteria in automations
Reminders and Subscriptions are no longer allowed to be converted from public to private in a sandbox
There was an issue where charts with a continuous x-axis, when displayed, would show no data.
To view the full list of all the latest bug fixes made in March, click here.
---