Quickbase Release Notes – March 2019
The March 2019 Release introduces the brand new Visual Builder, providing Quick Base users with a drag and drop interface to create and set up the applications all in one place.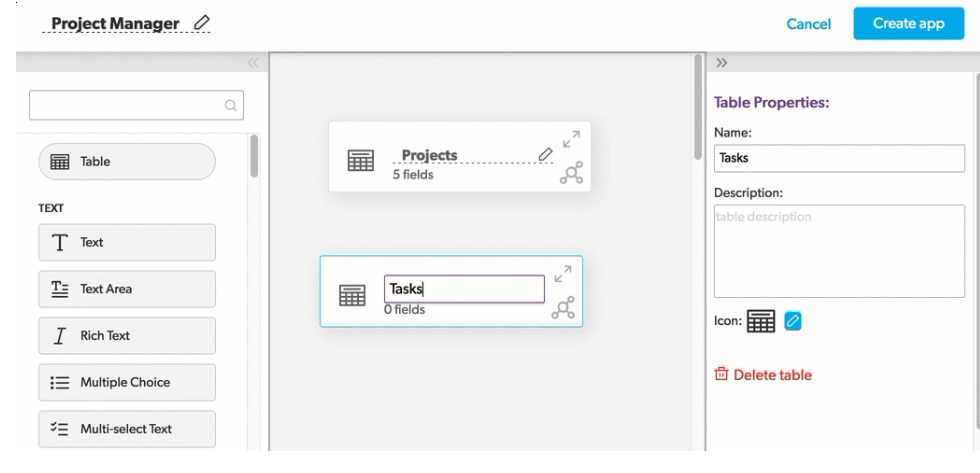 The Visual Builder is available under Settings > App Management, and provides all builders with an all in one place to build from scratch or continue developing existing applications. Easy to use – no extra clicks or back and forth.
For a more in depth breakdown of the design and set up for the Visual Builder – see the Quick Base blog centered around it.
Among the other highlights from this release:
Custom Data Rules:
An often frustrating part of Quick Base can be how much control you can exert on a Quick Base form using form rules – but the inability to enforce that same logic via Grid Edit or the API. As of this release, there are now Custom Data Rules that can be found under Settings > Advanced Settings. These rules appear using formula-syntax, and present the ability for you to write in your own logic that must be met for a record to be saved.
This is a great way to add similar logic to your tables, where each of the conditions present in your Data rules musts be met before a save can occur – no matter how your users are interacting with your system.
Continued Enhancements to the Mobile App and Interface:
As of March – the Quick Base mobile app is now available on Tablets, with an additional update that if you click a Quick Base link from a mobile device – your device will default to open up the application rather than a webpage.
API Improvements for AddRecord and EditRecord:
Now – API_AddRecord and API_EditRecord will allow for a clist parameter to return in the response a field list. Prior to this change – the XML response of a basic AddRecord would return the record ID only. With the clist parameter – you can designate what fields you want to map your AddRecord to, similar to API_ImportFromCSV, as well as return a specific set of fields rather than having to combine your AddRecord or EditRecord with DoQuery in order get additional information.
Improvements to Field Tracking and Usage:
Fields now contain additional info regarding their usage and estimate size, as well as a dependency diagram showing how / where that field is used. This is a great feature for auditing your fields and identifying what / how their used in cases where you might want to remove them.
To read in more detail about the entire March release and the other features included, click here.
---