Quickbase Release Notes January 2020
New Features
This January, Quick Base improved the builder experience by making the Visual Builder the standard method for New App creation. Now, when developers and users create a new app, they'll be automatically directed into the Visual Builder, where they can begin creating tables, fields, and relationships all from a single screen. For a more in-depth breakdown of the design and set up for the Visual Builder - see the Quick Base blog centered around it.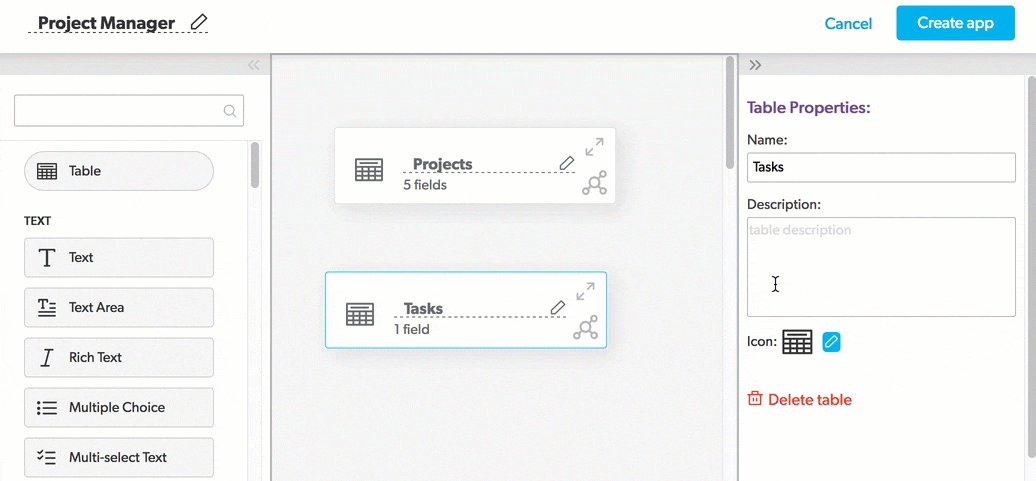 You may have also noticed the other new feature made available for 2020 when editing field properties: View Sample Data. In the "Basics" section of the Field settings, you can now view a sample of how data will be displayed in the field on your form. It can be frustrating to finish creating and formatting a form only to have to keep clicking back into the field properties to make it display how you'd like it. Now you can test different settings in the field properties and view sample data until you get the display exactly how you need without having to repeatedly leave and return to the settings to check the form.
Sample Data shows for all field types but isn't always what you'd expect. A Formula-Text field's sample data will show you one of the specified return values as it will be displayed on the form, but a Rich Text formula field's sample data will show one of the text styles you've applied as HTML.

Multi-Line text field sample data will show the text styling as well, which can be helpful to grab HTML syntax from if you want to apply that style to other text fields on your form. Sample data can be especially helpful for look-up fields, where you may not be sure what settings to apply to have a name display instead of the related record ID #.
Enhanced Existing Features
Due to popular demand, Quick Base has increased the Kanban report limits dramatically, now allowing up to 15 columns with 100 cards apiece. Users who depend on Kanban reports as part of their workflow now have double the number of cards per column and won't have to depend so heavily on archiving to keep their report usable.
Styling of Error Messages and the Settings Icon has been improved to make the user experience simpler, with better explanations of errors now appearing in error message content, and the settings icon coloring changed to match the rest of the application styling.
On the My Apps page, Advanced Searching for applications you have access to has been updated to only show applications that exist in the realm you're working with, reducing the time spent scanning through all applications if you accidentally dismiss a tab. Users can still search for all applications in any realm they have access to, but as an option instead of the default, with a radio button to show or hide applications that are open to the internet.
Early Access and Bug Fixes
Quick Base Pipelines haven't yet been rolled out to all accounts, but you can begin testing and implementing this new streamlined integration method by signing up for Early Access now. Similarly, the New Table Report experience is available for Early Access so you can test the new interface or even get a head start training your end users to utilize the new sorting and grouping features. The new left to right scrolling functionality is especially helpful for large reports where users would have formerly spent a long time scrolling down to be able to access left to right scroll capability. Click Here to sign up for Early Access, or follow this Link for an in-depth look into Quick Base Pipelines integration!

A number of bug fixes were implemented for 2020, many for the Quick Base Sandbox functionality which allows developers to build and test new solutions in live apps before rolling them out to end users. Particularly exciting are the corrections to Sandbox changes, warning builders about application-breaking changes and preventing the save.
To read in more detail about the entire January release and see the full list of issues fixed, click here.
---