How to Change the Application Manager | BASICS
Background
When a new app is created in Quick Base, the creator becomes the default application manager. More often than not, this will be acceptable, but at some point, it will make sense to change the application manager as individuals change roles at a company. To change an app's application manager, follow the steps below:
Option 1 – Form Settings
From the app home page, click the settings button;
Click the App Management icon;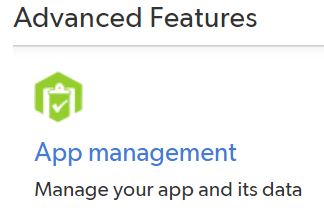 Scroll down to the Manage the App section and click Transfer app;

Enter the email address of the user you would like to be the new application manager and click next;

On the following screen, click Next, then authorize transfer;
An email has been sent to the user you want to become the app manager. When they accept, the transfer will be complete and the original manager will receive an email. The transfer will not be completed until the new app manager accepts.

If you would like to learn more about changing app-level properties, check out: Changing App Name, Description and Icon.
---