Customizing Your Application Branding | BEGINNER
Branding options* allow you to quickly update both the logo and color scheme of your app:
✓ Add a professional look tailored to your business.
✓ Quickly differentiate an app from others in the same realm.
EDITORS NOTE: Branding an application is an admin-only setting, available only to those with Administrator user access with the ability to modify high level application settings.
---
How to add custom branding to your application:
Navigate to: Home > Settings > Branding > Customize App Header & Footer

Configure your branding by adding images or text and adjusting colors.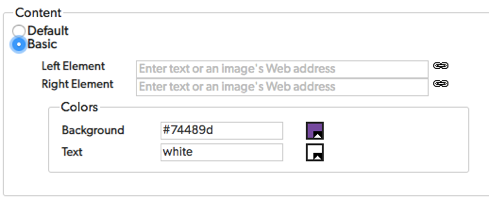 To view your changes at any step, click the Save button in the top right.
---
Header Customization
Hide Quick Base standard menu options:
Checking this box will remove the User information dropdown in the top right corner next to the Quick Links. This isn't typically chosen as it prevents your Users from quickly accessing their Preferences and Settings.
Left Element:
Although the option is empty, the Quick Base logo is initially placed in the left element. You will have the option of displaying custom text or an image. The image will resize automatically to fit inside the Header.
BEST PRACTICE: When linking to an image, best practice is to host it locally in your application (perhaps an images table) to prevent any errors from deprecated external links.
Right Element:
Just like the Left, you have the option to display custom text or link to an image. Typically, this is used for a company tagline or left blank. The results will be displayed on the right side of the header, but to the left of the Quick Links.
Background Color:
This option will change the default purple background to the color of your choosing. The application tab section in the lower half of the header will appear as a slightly darker shade. Acceptable values are hexadecimal colors and a handful of standard verbal colors (e.g. white). If you aren't sure what color you would like, a color picker will appear when you click on the swatch.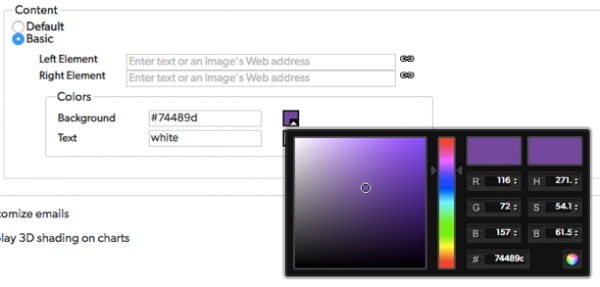 Text Color:
If you choose to use text in either the Left or Right Elements, this option will let you set the color. Like the Background, acceptable values are hexadecimal colors and a handful of standard verbal colors.
EDITORS NOTE: The Quick Links and Standard Menu colors are driven by the Background Color option and will appear as white when a darker background is selected and black when a lighter is selected. Keep this in mind when creating your theme.
---
Header Example
Default:

New Branding Options:

Results:

---
Footer Customization
By default, Quick Base hides the Footer option. Selecting "Basic" will display the Footer and allow you to insert either text or an image on the Right corner. There are no custom coloring options currently, so the background will default to grey and custom text will be black.
BEST PRACTICE: When using an image, the dimensions will determine the height of the Footer element. It's best to choose an image 50px or less to allow for the most working real estate on the screen.
---
Footer Example
New Branding Options:

Results:

---
Now that your application is looking as good as it functions, let's take it a step further and learn about Using Rich Text to make your Dashboard Pop!!!
---
---