10 Procurement Risks (And How You Avoid Them)
There are risks behind every purchase a business makes. They cannot be avoided. But, they can be managed. If you want to keep your supply chain intact and your business operational no matter what the world throws your way, you need to identify these 10 procurement risks and know how to navigate them successfully.
What Is Effective Risk Management
Procurement risk management is the process of identifying both internal and external risks to your supply chain. Effective risk management demands eliminating situations that put your organization at unnecessary, increased risk. It also involves finding solutions to mitigate both internal and external and external risks.
Effective risk management also requires risk analysis. In short, you need to map out potential risks, the likelihood of their occurrence, and whether or not you can effectively avoid those risks without disturbance to your supply chain.
Risk management is not a one-off event, either. Instead, your organization should conduct regular risk assessments to ensure you're prepared for any disruptions. And you'll need to identify possible courses of action.
These include:
Ignoring risks that pose no real threat
Reducing the likelihood of a risk occurring
Removing the possibility of a risk occurring
Managing risk potential with prepared solutions
Your procurement risk management process should also delegate which team members are responsible for handling certain types of risks. That way they're ready for an organized, quick response.
The TL;DR of Procurement Risk Management: Identity, Analyze, Mitigate, Plan, and Monitor potential risks to your supply chain. This gives you the best chance to remain operational when something goes wrong.
What Risks Face Your Supply Chain?
Now that you know how to prepare for risks to your procurement process, you need to identify how risk enters your organization, what types of risks you face, and how to mitigate them.
Where Do Supply Chain Risks Come From?
There are two types of risks to your supply chain. Internal and external risks. Each type requires a different approach.
Internal risks come from how your business operates, your employees, project demands, and your procurement processes.
External risks enter through your supply chain in the form of global events, political events, vendor relationships, and outside actors.
10 Supply Chain Risks and Solutions
You can mitigate internal and external risk by the types of risk management practices you have in place. However, you can never remove risk completely. You can only have the best procurement practices in place to help prevent them from happening.
Here are 10 major risks to your supply chain and how to avoid or reduce them.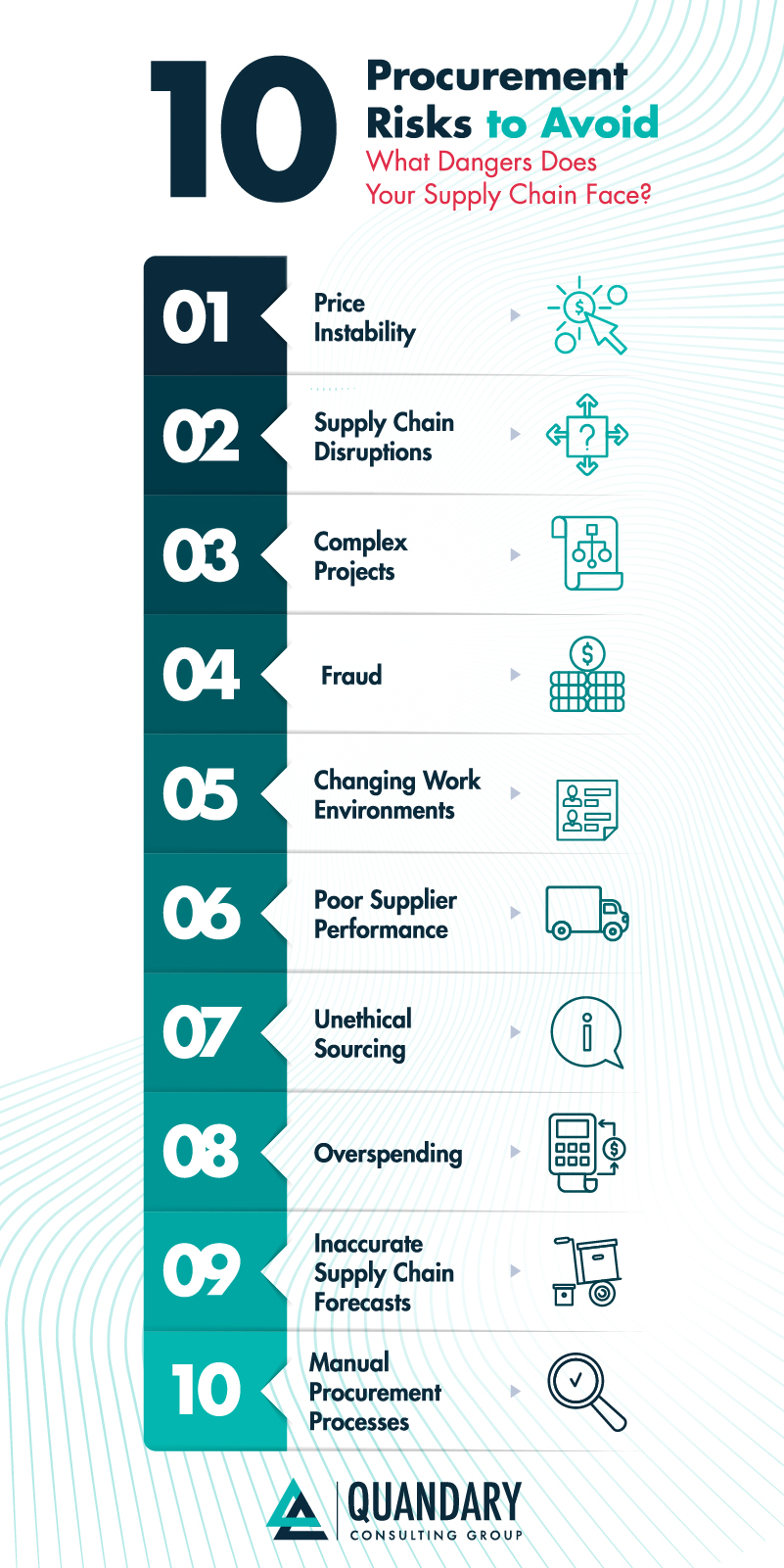 1. Price Instability
Prices can fluctuate over time. Despite what your contract stipulates, some vendors need to increase costs due to certain factors. Other times, unexpected expenses occur.
The Solution: make sure you have the budget to cover any unexpected expenses. Don't accept price increases without hesitation. And stand ready to negotiate any increased prices with your vendor directly.
2. Supply Chain Disruptions
Supply chain disruptions come in various forms. Most recently, we've seen how a pandemic can impact supply lines. Political unrest, economical changes, natural disasters, new technologies, and even a boat getting stuck in a canal can disrupt your supply chain.
The Solution: Assess your suppliers to understand which ones are most at risk for supply chain disruption. Diversify your suppliers and have secondary suppliers on standby.
3. Complex Projects
The more complicated a project is, the higher chance there is that something could go wrong. Complex projects have many unknowns, no matter how well they're planned out.
Each stage in the project also relies on previous stages and influences. As a result, minor issues can cascade into complex problems that drive a project to a sudden stop.
The Solution: Clear communication and evaluation of the project along with its procurement demands will help keep everyone on the same page and identify potential issues faster.
4. Fraud
Corruption is not uncommon in business, least of all procurement. From bribes to fake invoices to embezzlement, there are plenty of places in the procurement process where bad actors can take advantage of blind spots in procurement processes and steal from a business.
When this happens, it puts the whole organization at risk.
The Solution: Improve procurement transparency. Moving away from manual processes to automated procurement processes means more accountability and transparency in purchasing.
5. Changing Work Environments
More organizations work remotely, but with more remote work comes more challenges. Collaboration on projects and with vendors can become difficult. Overlooked processes, ignored requirements, and missed deadlines can easily happen without being able to verify or follow up in a face-to-face environment.
The Solution: Choose a single platform for communication and establish procedures for sharing progress, meeting deadlines, and discussing any supply chain issues.
6. Poor Supplier Performance
Your supplier is a vital business partner that should work with you to increase your success. Suppliers should deliver on expectations, communicate clearly, and collaborate with your team. When suppliers underperform, it puts unnecessary strain on your business to meet customer expectations.
The Solution: Work with your suppliers and track performance. Using a vendor management system, you can rate your suppliers and compare their performance over time.
7. Unethical Sourcing
Customers expect ethical and sustainable business practices. And even though your organization may go out of its way to work with partners that match your business values, it's possible that the vendors they work with don't. Ultimately, the onus falls on your business to ensure your vendors meet your sustainability and ethical goals.
The Solution: Vendor management systems allow you to store all relevant data on vendors and compare them to other competitors. This can help give you better insights into your suppliers.
8. Overspending
Overspending can put your business at peril. Without an adequate budget, you could face additional fees, damaged vendor relationships, or a complete shutdown of your procurement process.
It can lead to unneeded products occupying expensive warehouse space. Worst of all, it can force you to take out emergency loans to cover basic expenses (like payroll).
The Solution: Leverage e-procurement solutions to automate invoicing and purchase orders, giving you greater transparency into your budget and spend in real-time.
9. Inaccurate Supply Chain Forecasts
Miscalculating the supply chain forecast can leave you paying more for goods and services (or not being able to acquire either when you need them). Not only do you miss out on the best pricing, but you may also face other costs such as warehouse storage and rushed delivery fees.
The Solution: Use supply chain management software to collect the data needed to provide accurate forecasting, so your business can get secure delivery at the best market prices.
10. Manual Procurement Process
Organizations that still rely on manual procurement processes face unnecessary risk. Most of the issues discussed so far come from a lack of transparency in the procurement process. Manual procurement processing makes it impossible to get that transparency.
Manual data entry opens your organization up to costly data entry errors. A lack of real-time reporting makes it easy to miss the signs of an approaching catastrophe. And data silos create multiple (potentially inaccurate) pictures of a project's progress.
All of these events expose your business to unnecessary risk and make it harder for your procurement team to develop potential solutions should something happen.
The Solution: Automate your procurement process with e-procurement platforms. These expansive, integrated systems provide the real-time reporting and data tracking you need to avoid many of the potential risks your supply chain faces.
The Biggest Procurement Risk Mitigation Challenge
Without better systems and workflows, you end up scrambling for time to focus on the bigger issues facing your organization's procurement process. While you can create better procurement plans and improve procurement management internally, there are limits to what you can accomplish in-house.
Building a procurement system that can easily mitigate risk requires the right tools and expertise. Sadly, most internal teams have their hands busy running their business.
Fortunately, there's a better solution: hire procurement specialists to create a risk-resistant procurement process for your growing organization.
How to Navigate Procurement Risks Easier
At Quandary Consulting Group, our process consultants can help you improve your workflows and systems by building custom applications and integrating your disparate procurement processes.
Always within budget. Always delivered on time.
See how we've helped our clients improve their businesses and get insane ROIs by checking out our case studies below.