11 Best Procurement Software: Streamline Purchasing in 2023
Procurement is a strategic process you can leverage to boost the bottom line of your growing business. Knowing the latest trends and onboarding the best procurement software can reduce your costs and present new opportunities for your growing business.
But, there are A LOT of procurement solutions out there. So, which one's the best for your business?
These are the top 11 best procurement software you should consider if you're looking to better scale your growing business. Choose one of the solutions below if you want to reach your procurement goals this year.
The Best 11 Procurement Software in 2023
To make it easier for you to choose the right procurement software, here are the top 10 platforms on the market today.
These software solutions provide everything your business needs to streamline your procurement process, cutting costs and increasing efficiencies in your business.
1. Tradogram
If you're looking for a top-rated, e-procurement software solution, then look no further than Tradogram. With an endless list of businesses that have already adopted it, you have the social proof you need to add it to your company's application stack.
No matter the size of your organization, Tradogram can improve your procurement process with custom management support across multiple locations and departments. Spend management functionalities make it easy to forecast cost issues, analyze expenditures, and review supplier management.
There are numerous tools you can use to automate your POs, RFQs/RFPs, Contracts, Requisitions, and invoicing. As a cloud-based app, you get enhanced mobility and security. Data flows easily between modules, giving you clear insights into up-to-date reports.
This accessible system supports quick onboarding with its easy-to-use interface. As a result, you can automate many areas of your procurement process quickly and efficiently.
2. Fraxion
Fraxion is a cloud-based procurement software solution for growing businesses. It can help you better manage your procurement process by providing accurate reporting, proactive spend management, and complete control over each step of your procurement process (from requisition to payment processing).
Fraxion is a cloud-based, procure-to-pay solution trusted by businesses around the world for automating their procurement processes. The platform empowers users by automating your procurement workflows.
With multi-level approvals, AP, spend analysis, vendor management, and everything in between, Fraxion can help your team transform your procurement process. It also lets you manage travel expenses, analyzes budgets, and audit your procurement process to ensure compliance.
Fraxion integrates with several ERP systems and is perfect for organizations that need to proactively manage their procurement processes and spending.
3. Pipefy for Procurement
Pipefy for Procurement acts as a visibility and communication layer that connects disparate systems and activities to streamline the purchasing process. It facilitates communication and helps teams make time for smarter sourcing.
Pipefy for Procurement bridges the gap between core systems like Coupa, SAP, NetSuite, and DocuSign, enabling full visibility and transparency of each purchase requisition for both requestors and buyers and allowing better communication among teams, internal clients, and vendors.
All while reducing costs.
In fact, Pipefy allows approvers and requesters to use the platform for free. That's why BASF chose Pipefy and replaced emails and spreadsheets with a streamlined process that saved them 2,400 working hours a year. Plus, it also boosted their teams' productivity and efficiency.
4. GEP SMART
GEP SMART is a world-leading source-to-pay software solution that empowers you with complete control over your procurement process. Led by artificial intelligence, this cloud-based platform provides powerful spend analysis, savings tracking, contract management, and clear insight into sourcing.
Additionally, you can easily manage your vendors from a single platform. Supplier management, contract management, and project analysis help you clearly evaluate performance and better rate your vendors.
GEP SMART supports both direct and indirect procurement processes, helping you improve efficiency. It also unifies upstream sourcing and downstream procurement to help you transform your sourcing into a strategic process.
Users can customize their dashboards for better reporting that can be easily shared among your team. GEP SMART cleans and validates your data from all sources in your system.
As a result, you can leverage detailed insights to guide your team and find new opportunities. With a clearer picture of your purchasing process, you can make better, more informed decisions.
5. Procurify
Procurify is another cloud-based procurement solution that can help you centralize your processes, reduce waste and optimize your spending. This platform helps businesses track, manage, and control spending easily.
With Procurify, you can centralize your purchasing data on one platform, rather than trapping information in several disconnected silos. This streamlines your operations by reducing menial tasks and manual data entry errors.
You'll get real-time reporting, so you can effortlessly track your requisitions, POs, and expenses. And you can empower your team to manage their spending with approval guardrails. Team communication remains centralized on the platform, ensuring no messages get lost in the busy day-to-day activities.
This accessible system reflects the shopping process of major e-commerce sites and integrates to many ERP platforms easily with its API function. It's also incredibly mobile with native iOS and Android apps. As a result, it scales with your growing business as your number of applications, team members, and locations increases.
Procurify also provides a Knowledge Base for their platform, providing users with expert guidance on setting up the platform and getting the most out of it. They also provide detailed support with quick turnaround times on tickets.
6. Kissflow Procurement Cloud
Kissflow's procurement software is a flexible solution for businesses looking to upgrade from manual or dated processes to streamlined, automated solutions. This cloud-based solution leverages the power of low-code to empower users to build lean solutions without a background in coding. This allows for more customization in your solutions.
For example, you can set up several procurement processes that require conditional approvals from key players in your organization and let the automation manage the rest. From simple approval processes to multistep, complex workflows, Kissflow delivers. As a result, you can reduce approval bottlenecks, ensuring on-time purchases and payments.
Kissflow's easy-to-use procurement platform gives you greater control over your procurement process. Manage and support your vendors and team members. Automate everything: order requisitions, purchase orders, budget tracking, supplier management, approvals, three-way matching, and so much more.
Clear data dashboards help organizations make more informed decisions. You'll get accurate insights into your budget so you can analyze your spending. Additionally, you can customize your dashboards to fit the reporting needs of your organization.
Onboarding is easier because Kissflow is a modular solution that deploys quickly. As a result, your team will experience minimal disruption while they quickly learn the ins and outs of the platform.
7. Procurement Express
Procurement Express solves all your small business purchasing needs with a quick, easy, paperless app. One simple dashboard automates important processes, reduces reliance on spreadsheets, and gives you real-time access to budgets, orders, and approvals.
No more wondering who ordered what or taking days trying to reconcile an invoice from a surprise supplier. And no more hunting down whoever signed off on them. Procurement Express manages everything with one seamless app that quickly syncs with your accounts and system.
The app's purchase approval process is quick, easy, and fully customizable. With Procurement Express, you can streamline your business procurement operations, establishing a clear chain of command and providing relevant permissions for key players. Alerts notify relevant parties when money leaves the company. Custom spending rules decide who has the final say.
Transform your stack of approval requests into an instant-access digital budget on an accessible, cloud-based procurement platform with Procurement Express.
8. Precoro
Precoro is a no-code solution that allows you to optimize procurement processes and streamline spending workflows. Using this flexible and reliable platform, you can eliminate time-consuming manual procedures and human errors.
With Precoro, you can utilize specific modules and create as many fields as needed based on your business requirements. Automate your approval workflows, manage suppliers, get better control over budgets, track corporate expenses, and receive real-time reports within one platform.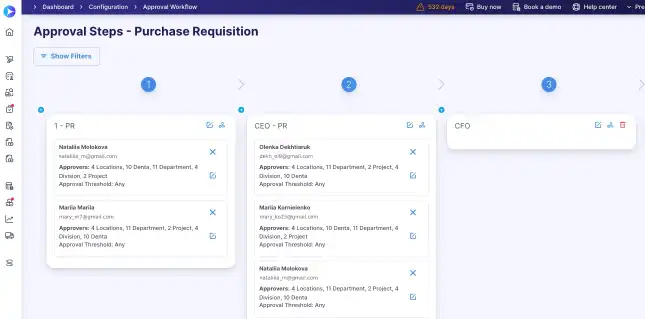 You can collect all your relevant information in one place by connecting Precoro with your ERP and accounting systems (such as NetSuite, QuickBooks, Xero, and others). In short, you get a comprehensive platform that puts together all your financial operations into a much more manageable system.
No matter your business area, Precoro works as an integral part of procurement and spend management for both SMBs and Enterprises. Plus, each client has a dedicated Customer Success Specialist to help them with any issues. And the application is updated regularly without any additional charge to the users.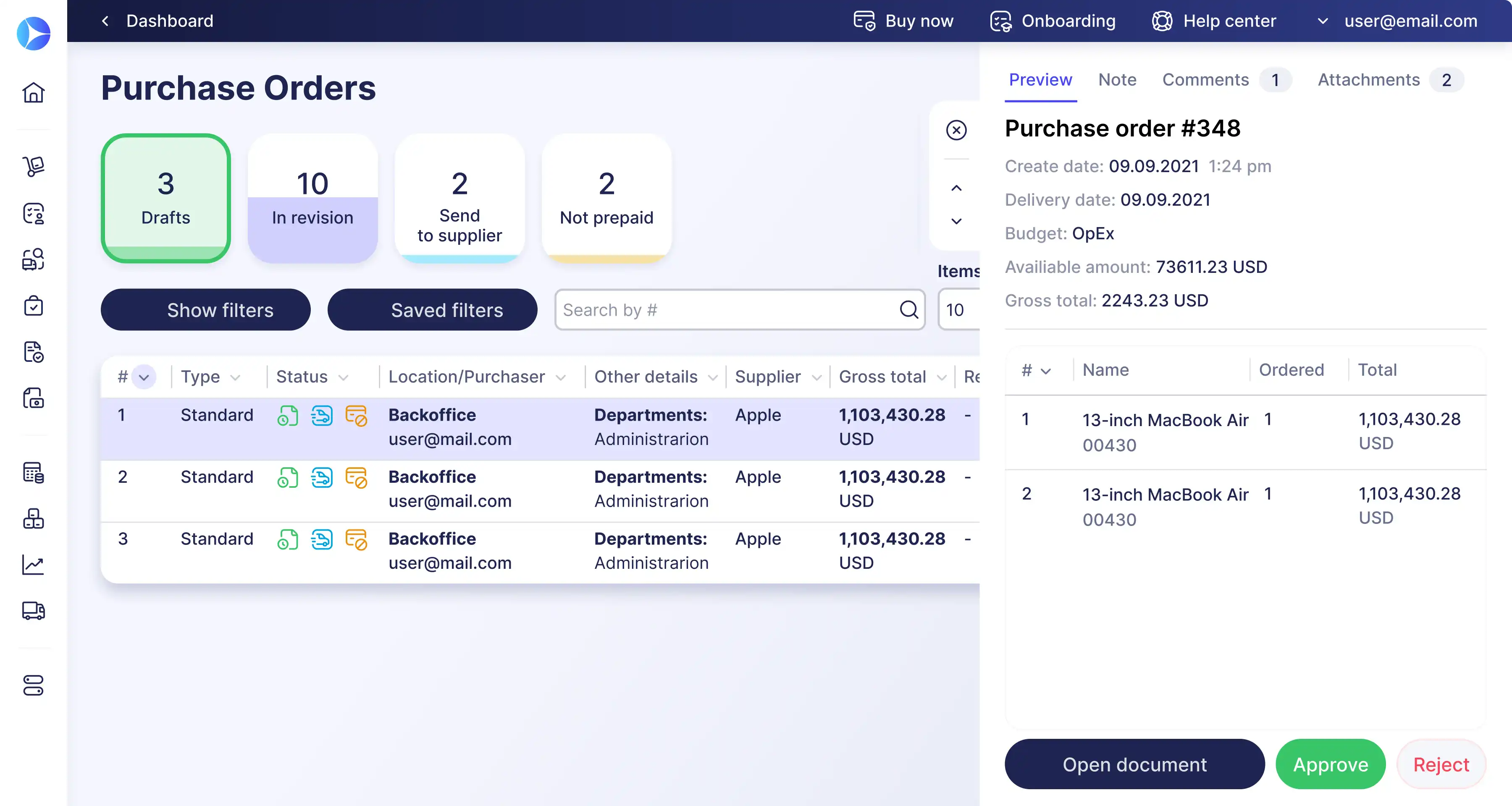 9. Basware
Basware is a leading provider of Networked Procure-to-Pay solutions with the largest open e-invoicing network in over 180 countries.
Their cloud-based technology enables enterprises to fully manage their spend, mitigate financial risk, and reduce operating costs through automation. Basware automates aspects of finance, procurement, accounts payable, and accounts receivable processes to transform procurement into a strategic process for organizations.
Basware's open technology ecosystem and extensive partner network have helped over 6,500 businesses in 60 countries move towards 100% spend visibility. Ultimately, this has helped enable better business decisions across the board – a concept Basware calls "Visible Commerce".
Additionally, the platform offers its customers and suppliers the digital tools and transaction details they need to see all business spend, achieve order control, and build stronger supplier relationships. They believe that every business transaction and purchase should be simple, visible, and quantifiable for better business operations and a better business world.
10. RFP360
If you struggle to issue RFPs as many organizations do, RFP360 provides a better way to manage any type of RFx. Their cloud-based software empowers procurement teams to easily introduce fast, effective, and 100% digital RFPs.
Your team drives the process, publishing an RFx, inviting vendors, collecting proposals, and evaluating responses—all inside RFP360. Vendors then use RFP360's response features to supply answers, ask questions, and submit proposals with ease.
With RFP360, you can save time, mitigate risk, reduce costs, and improve decision-making. Invited vendors also save time and effort, increasing participation and engagement because the software's easy for them to use.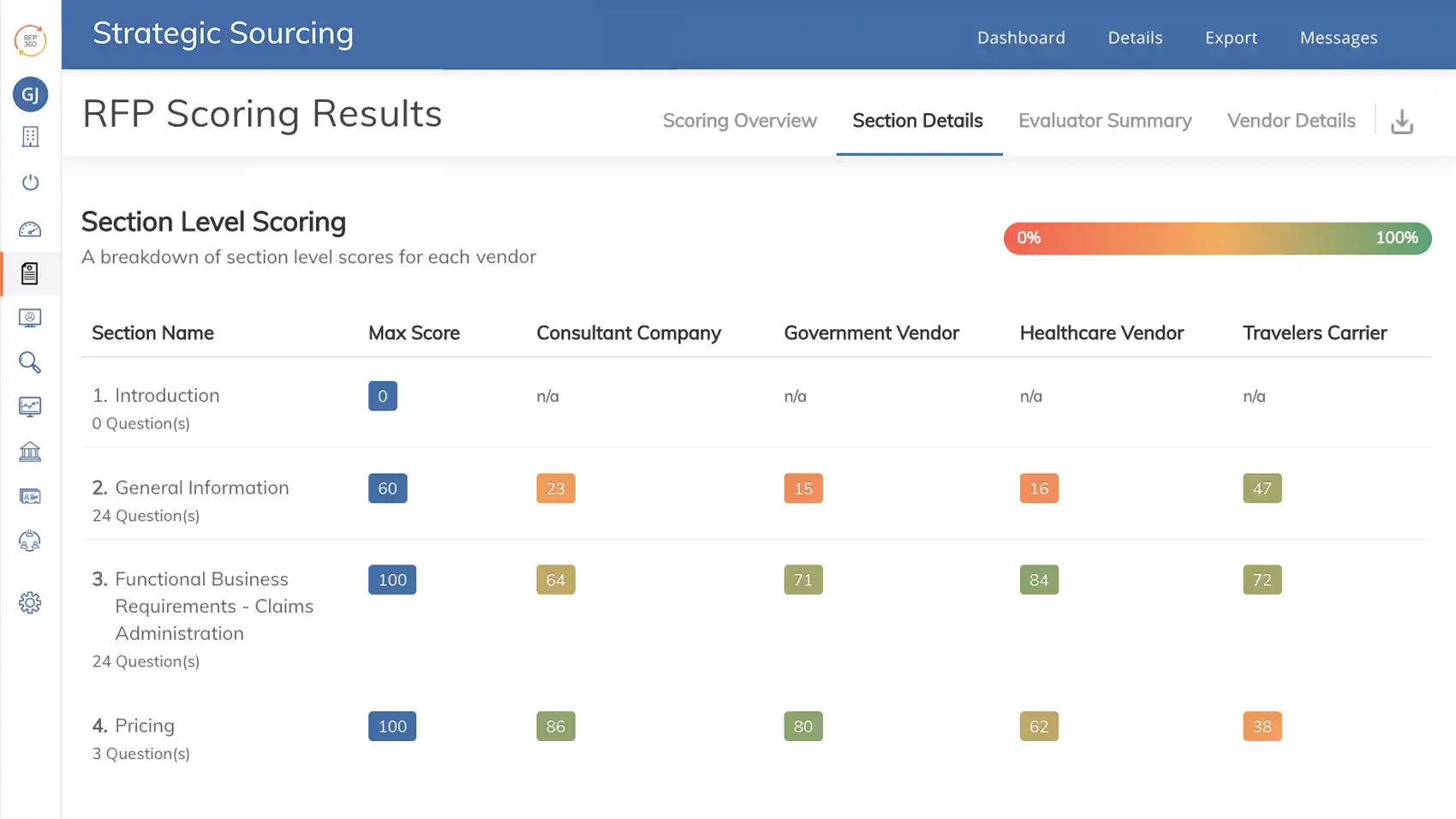 11. Prokuria
Prokuria is a cloud-based platform for automating sourcing and supplier management. This helps procurement teams around the world to deliver significant cost and time savings.
The platform is easy to learn and customize for your team. It's intuitive design means your team can quickly learn adn start using the platform compared to other software solutions on the market.
Prokuria also provides many cost-saving sourcing solutions:
Faster supplier management through launching all types of sourcing events (RFI, RFQ, RFP, Auctions, and Dynamic Allocation.)
Supplier and contract management via Supplier Relationship Management (SRM, Segmentation, Performance Reviews, Onboarding, Scorecards.)
Plus, this user-friendly platform streamlines sourcing-to-procurement processes, boosting internal collaboration, alignment with stakeholders, and speed of business to improve cost-saving across your organization.
Purchasing Software vs. Procurement Software
Purchasing software focuses on purchasing explicitly. Procurement software supports all areas of the procurement process. For a more detailed analysis of the differences between these processes, check out our guide.
The beauty of automation is that you can focus on the real problems of your organization based on your budget.
If you're limited by budget, you can leverage purchasing software to automate the purchasing process. Or, you can find areas of your procurement process where automation can yield a very high ROI, like invoice automation.
Still, you'll need to invest in other software to monitor suppliers, authorize purchases, and track inventory. And you'll have additional expenses if you want to automate the process and connect all these different platforms.
Purchasing software also won't usually allow you to find potential suppliers, compare them, and negotiate the best prices for your business. The result is a more fragmented, less optimized system that creates more work for you in the end. But, it's still better than manually operating your purchasing process.
Alternatively, you can overhaul your entire procurement process by onboarding an automated procurement solution for your whole organization. The choice is yours.
Why You Need to Automate Procurement
Procurement is no longer a menial task that needs to be "dealt with". It's a strategic process that can help grow your business. Plus, it can give you an advantage over your competition by reducing spend and increasing operational efficiency.
However, you need the best procurement software if you want to experience the benefits of procurement automation and transform this process into a strategic asset.
Without procurement, you'll be stuck operating your procurement process manually, missing out on the benefits of procurement automation.
The 3 Most Important Procurement Software Features
Before you decide to onboard a procurement solution, you need to evaluate its features. These platforms have plenty. Still, there are three features that are absolutely critical to you getting the most out of the platform you choose.
1. Easily Integrates with Other Systems
Integrating your procurement solution into your business systems is key. This helps you reduce costs while increasing efficiency in your organization.
Your apps need to move data seamlessly from platform to platform. This creates a more transparent view of your business and its customers. It also reduces errors and keeps data clean.
If you're not sure about whether or not a particular procurement product can connect to your existing business infrastructure, it's best to consult an integrations specialist.
An integration specialist will know how to connect your disparate systems. They'll also know which integrations will give you the highest ROI. These experts will help you avoid the typical pitfalls in connecting systems, getting you more out of the procurement software you choose.
2. Scales to Match Business Needs
As a growing business, you need to invest in procurement software that can keep up. Otherwise, you'll end up looking for other solutions before you've seen a significant ROI. In short, you need software that can scale with your business.
To figure this out, speak to the vendor about the platorm's ability to scale. You'll also want to know whether or not new features and systems can easily integrate to it. After all, your customers and the market's needs are always changing, and you need to be ready to provide them with the features they need.
3. Provides Accessibility for Your Team
One of the main reasons businesses fail in their attempts to automate processes is that they choose products that are not user-friendly. The more difficult a product is to use, the less likely it will be that staff will more willingly use it and embrace the change.
Your procurement solution needs to be accessible. It should be easy to learn and easier to use. Ask how detailed/hands-on their customer support is. Read reviews. Also, find out whether or not the procurement software has a knowledge base that provides additional insight and guidance.
Above all else, it should be mobile. After the pandemic, more and more industries embraced remote and mobile workforces. Add to that much of procurement takes place outside of the office and around your business or on the warehouse floor.
Automating Procurement in a Post-Pandemic World
The value of digitizing your procurement process in the wake of COVID cannot be understated. Already, businesses are rapidly transitioning to relying more on software systems to streamline the process rather than manual tasks performed by people.
This sudden shift in our world reminded us that business systems and flows need to be agile if an organization is to weather any storm.
Now, more than ever, your organization needs to be ready for any rapid shift. And a digital procurement process with the best software for your business is one way to ensure your business keeps moving forward, no matter what the world throws its way. Procurement software can provide that agility.
How to Deploy the Best Procurement Software
Procurement software can help you reduce costs by providing a clear view of your supplier relationship that you can leverage. You can also gain more transparency in your procurement process, increasing efficiency, improving communication, and reducing errors.
So, how can you find the right procurement software and get the most of it for your business?
At Quandary Consulting Group, our process consultants can help you improve your workflows and systems by building custom applications and integrating your disparate systems.
Always within budget. Always delivered on time.
See how we've helped our clients improve their businesses and get insane ROIs by checking out our case studies below.