Top 17 Best Construction Estimation Software to Reduce Costs
Providing accurate estimates for customers is a must for construction companies. An accurate estimate develops customer trust and helps establish long-term business relationships. It also protects your cash flow, keeping things from grinding to a halt (or worse.)
With so many variables to consider, such as material costs, subcontractor expenses, and delivery times, it's easy to make a mistake. And unfortunately, one small mistake can snowball into big losses and damaged reputations if you're not careful.
You can avoid mistakes by simply using construction estimation software. This software automates the estimation process for more accurate and reliable results. With this data, you can stay within budget, reduce costs, and adjust quickly when unpredictable events happen.
Let's take a look at some of the best construction estimating software that's out there right now.
3 Best Free Construction Estimation Software
Let's start with the three best free versions of construction estimation software. While they may not have all the features of paid software versions, these platforms offer several great construction estimating features. Use these apps if you have a limited budget, but need reliable cost estimates and good basic functionality.
1. Easy-Pro Builders Estimator
Pricing:
Free.
Summary:
Easy-Pro Builders Estimator is an open-source software program based on Apache OpenOffice Calc. Since it's open source, you can control how the program works. This is beneficial, especially if you have programming knowledge or have a development team that can adjust the program to your needs. The program can be used by Microsoft Office Suite, Office 365, OpenOffice, and LibreOffice online.
Features:
26 trade-based worksheets for individual trades pricing and cost tracking
Summary page
Taxation table
Gannt charts for progress scheduling
Customizable pricing methods
Labor and materials calculators and converters
2. Estimate by Wanhive
Pricing:
Free.
Summary:
Estimate by Wanhive is an open-source, web-based construction cost estimating software program. It can be customized according to your company's needs, and you can add new features as desired.
Estimate is designed for large civil construction and EPC companies. It's a community-supported project released under GNU Affero General Pubilc License. Estimate offers full control over your project's time, finance, and resources.
Features:
Management of schedule of rates
Cost sheet preparation
Bill of quantity generation
Bid management and analysis
Contacts and document management
Subcontractor and vendor quote evaluation
3. Stack
Pricing:
Free (with paid options ranging from $1,999-$4,999 per year).
Summary:
Stack is one of the most popular construction estimation software programs. It features takeoff and estimating capabilities meaning it pulls information from spec sheets (takeoff) to create line-by-line cost and quantity estimates (estimating.)
Stack also offers accurate labor estimates for various construction projects and a historical database for storing information on previous jobs' labor costs. While Stack's free version is comprehensive, you get a maximum of two projects with seven days of access. For unlimited access, you'll have to upgrade to one of the paid versions.
Features:
Works on PC, Mac, or iPad
Upload plans from Google Drive, Dropbox, Box, Evernote, or a local device
Integrates with other products, including Procore, Buildertrend, and SmartBid
Provides a centralized hub for team collaboration
14 Best Paid Construction Estimation Software
With paid construction estimation software, you can expect far more features than the free versions. In general, you're paying for more convenience and more accuracy. Here are 14 of the best paid construction estimation software programs.
1. Quickbase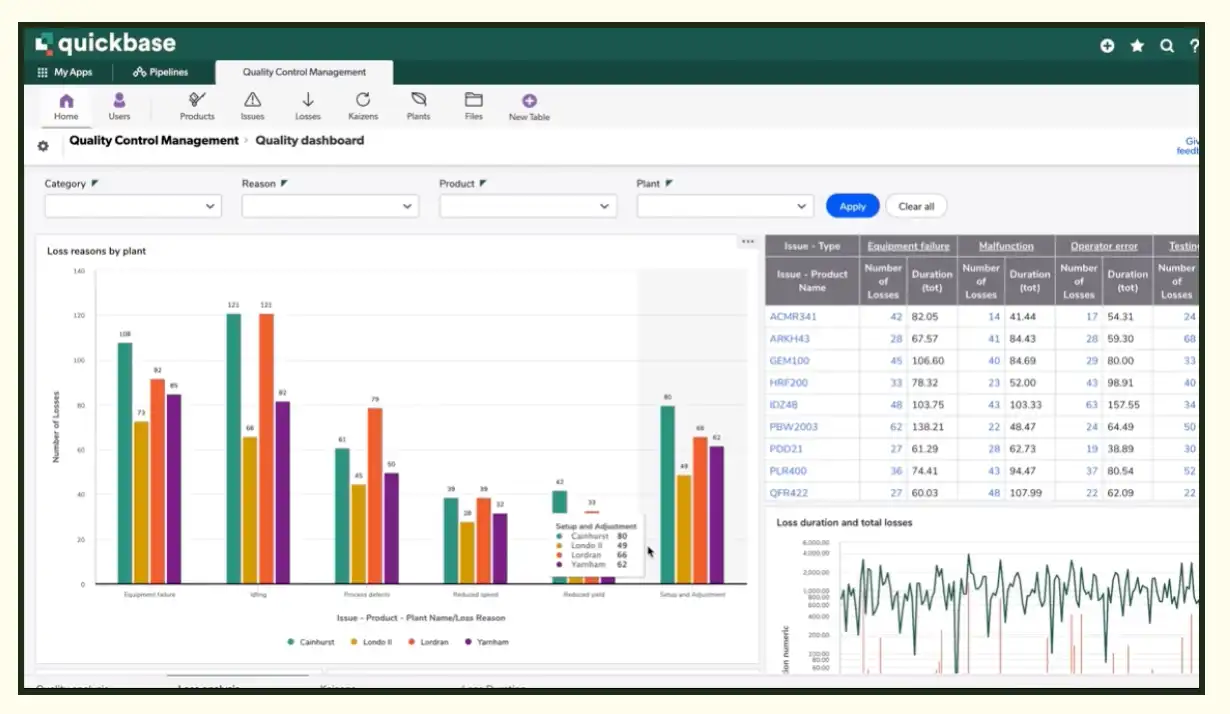 Pricing:
Team plan, starting at $600 per month; Business plan starting at $2,000 per month; and a customizable Enterprise plan, with custom pricing.
Summary:
Quickbase is a low-code platform. You don't need programming experience or background to build custom applications quickly. As a result, you can quickly build a custom construction estimation solution (with features specifically for your business) quickly.
Instead of wasting time and money on custom apps, Quickbase empowers you with lean solutions. In fact, low code is a must for construction. From increasing productivity to better workforce management, you can redesign your business processes with Quickbase.
If you have people on your team with low-code experience, they can use Quickbase to build a custom solution for your needs. If not, you should consider working with Quandary.
We've built construction estimation software for clients in low code. And we can help build a built-to-suit solution for your business. (See our case studies below.)
Features:
Low-code platform requiring little to no programming experience
Mobile app available
Sandbox feature to test changes before rolling out to the team
Schedule merging
Contract sharing
Change order management
Cost analysis functionality
2. ProEst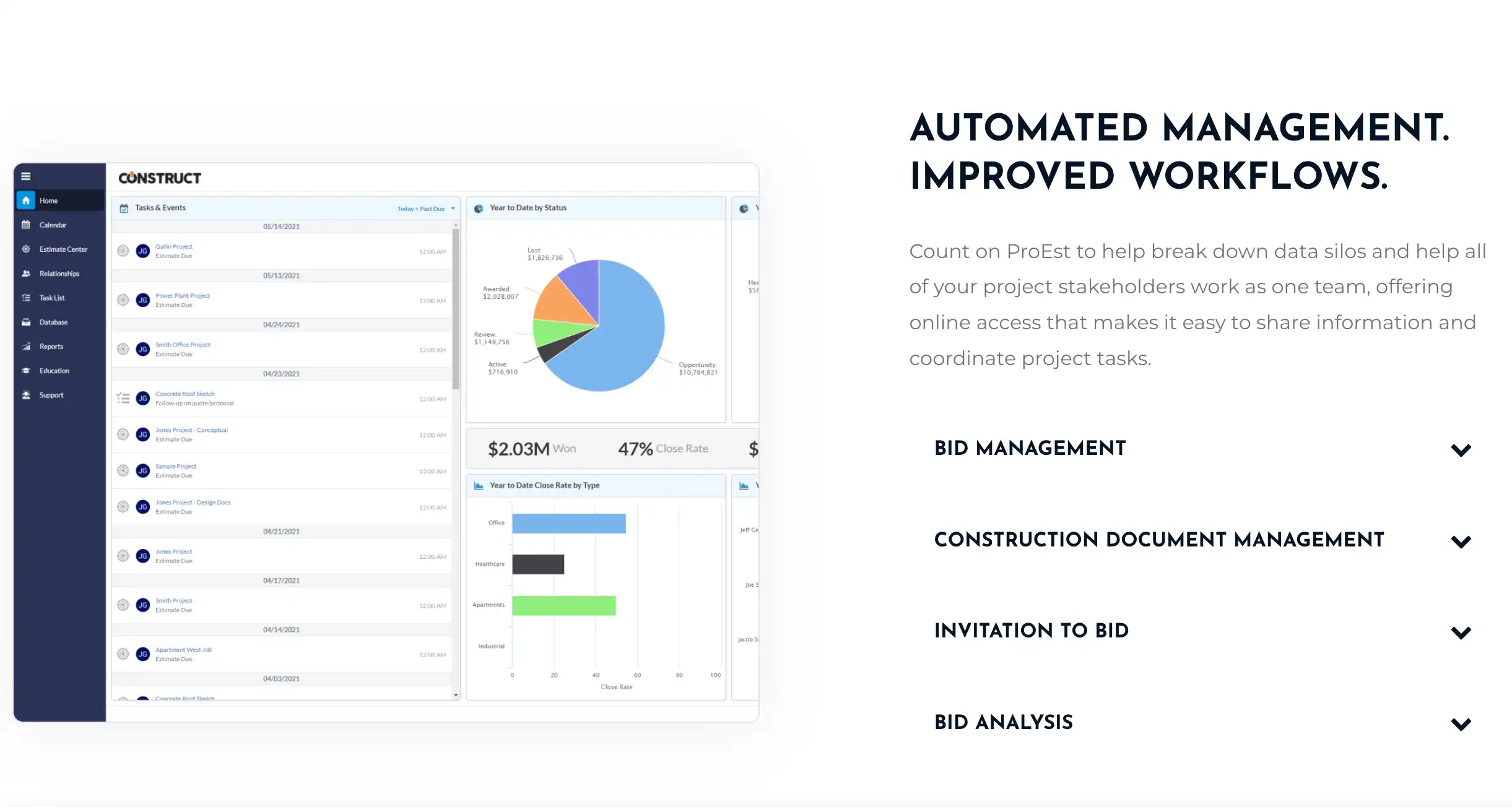 Pricing:
Yearly subscriptions, starting from $5,000 per year.
Summary:
ProEST focuses on project management and streamlining the business cycle. It has a library of construction estimating resources for help with accurate estimates. It also features built-in takeoff and bidding software to help you simplify bidding for jobs and manage customer relationships effectively.
ProEST integrates with multiple construction management software programs like Procore, iSqft, and Viewpoint. Plus, your ProEST annual subscription includes unlimited users, unlimited phone and email support, and access to training videos.
Features:
Library of construction estimating resources
Construction CRM
Conceptual estimating
Cost databases
Bid management
3. ProjectPro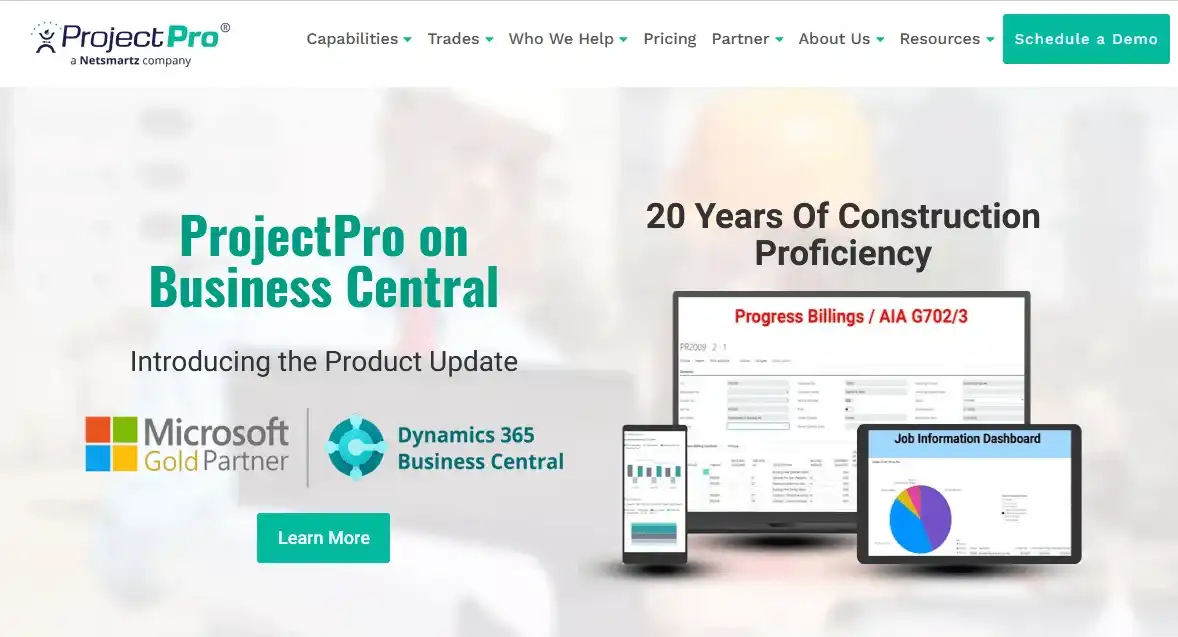 Pricing:
From $52 per month
Summary:
ProjectPro is an integrated cloud-based construction accounting software powered by Microsoft Dynamics Business Central. It is designed for construction firms to help them make the most of their business.
ProjectPro empowers construction companies by streamlining business processes, controlling costs, and offering timely and accurate information. It can integrate users' crucial job quoting, project accounting, resource management for labor and equipment, material planning, customer relationships, and much more from a single database.
ProjectPro relies on advanced Power BI and Cloud capabilities. The platform automates certified public accounting to stay ahead in the market with accurate numbers. The automated features of the software enable construction companies to process finances for various job classes or any other transactional requirements for accounting firms.
Features:
Create contract lines within job tasks for billing milestones
Prepare integration for either Business Central Payroll Solutions
Create prices for job labor and equipment
Create timesheet batches for the specific jobs
Track actual materials and resources
4. SimPro

Pricing:
Contact vendor.
Summary:
SimPro offers end-to-end field service management with its program. Created by trade contractors for trade contractors, its centralized dashboard shows the locations of field staff and offers real-time updates on clock-in and clock-out times.
SimPro also tracks invoicing and job status from creation to completion. And it offers equipment inventory tracking, so you know what you need and when you need it.
Finally, you'll get easily-accessible customer support, training, help guides, and consistent software updates. And SimPro integrates easily with Microsoft Office, Quickbooks, Xero, and Square. This makes it easier to streamline your workflows.
Features:
Inspection management
Geolocation
QM/ABPro interface
Equipment Management
5. Sage Estimating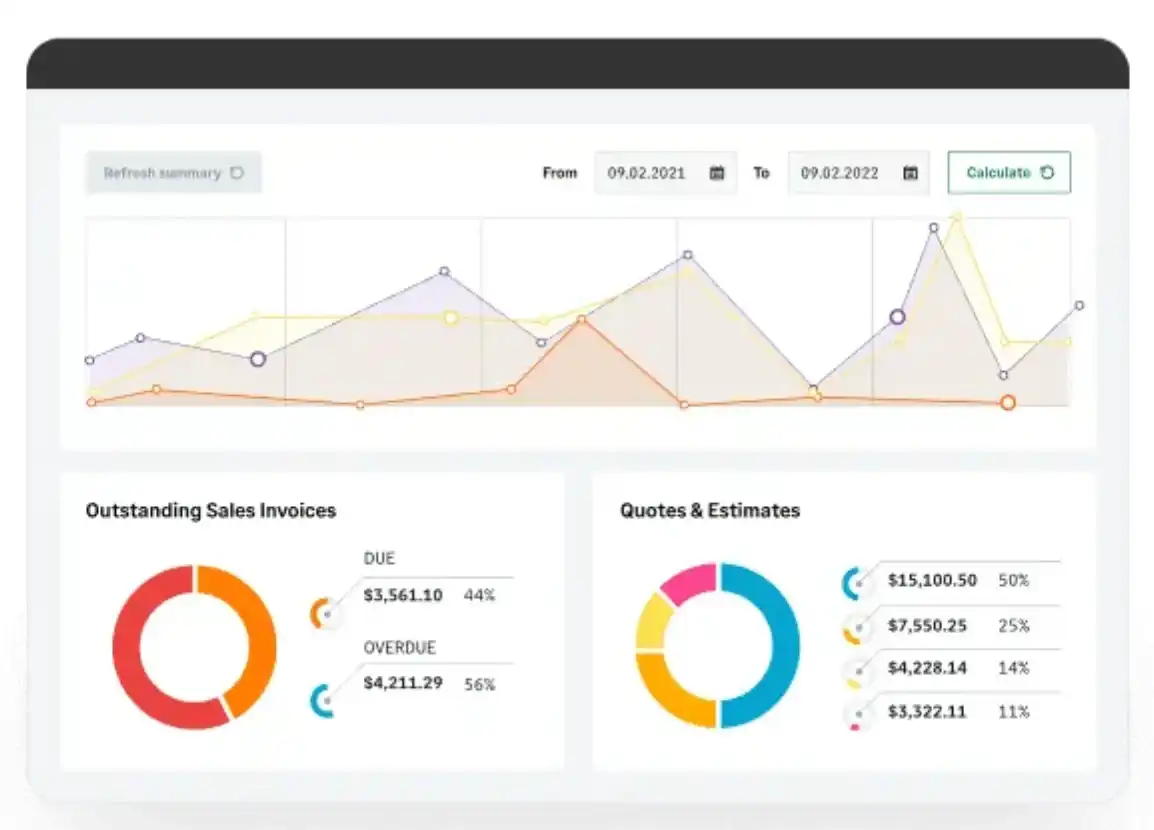 Pricing:
From $99 per month.
Summary:
Sage Estimating operates as Windows software that you install on your computer. There is no mobile or cloud version, so it works well with companies with a team devoted to generating bids using an on-premise system.
Sage offers takeoff tools that transfer 2D and 3D takeoff information into accurate bidding. The program also exports budgets, purchase orders, and subcontracts when integrating with Sage 100 Contractor and Sage 300 Construction and Real Estate.
Sage also offers ERP, HR, CRM, and inventory and supply chain management support.
Features:
Compatible with project takeoff software
Construction cost databases
Integration with industry BIM solutions
Estimates from 2D and 3D content
6. SmartBid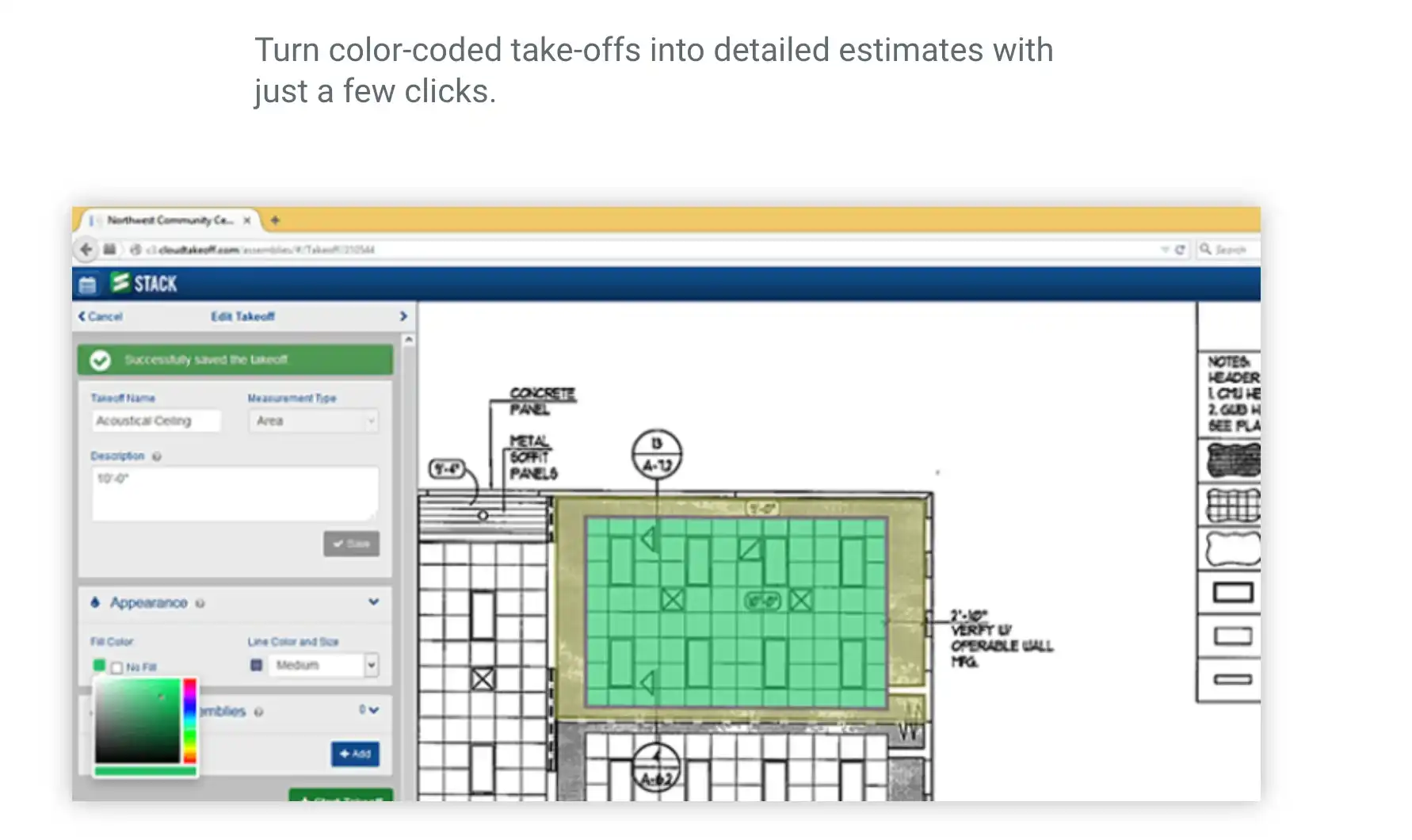 Pricing:
Contact vendor.
Summary:
Smartbid works well for contractors who often use subcontractors. It offers accurate bids for job proposals by maintaining a database of subcontractors. When you ask subcontractors to bid for their bids, Smartbid tracks the bids for easy comparison.
Smartbid also allows you to prequalify subcontractors to check their licensing. You can have subcontractors submit verification to ensure they remain compliant while completing the job. Smartbid integrates with other construction estimating software programs such as Procore, Autodesk, and Stack.
Features:
Mobile version available
Integrates with construction estimating software programs
Subcontractor compliance tracking
Subcontractor data management
Bid comparison
7. IntelliBid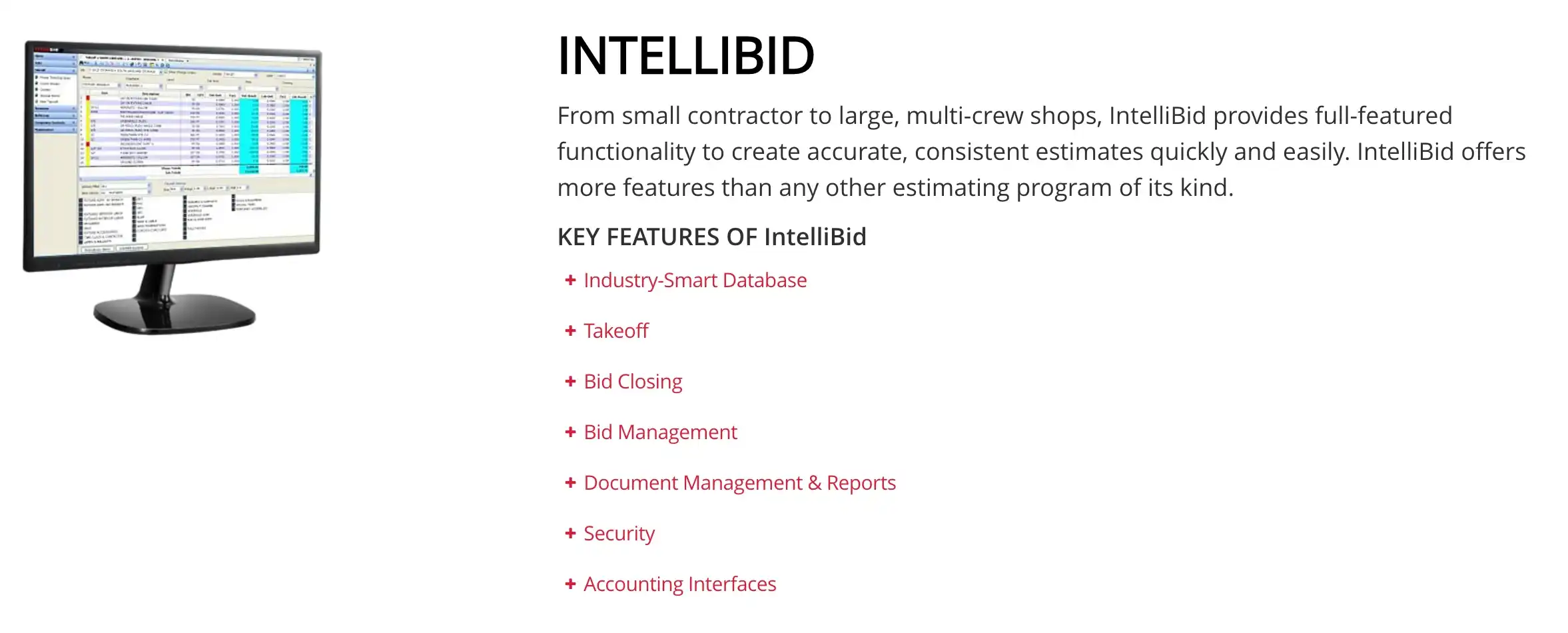 Pricing:
Contact vendor.
Summary:
IntelliBid from ConEst software systems is an estimating software platform built for contractors in the electrical, security, fire alarm, and solar sectors. It features an Industry Smart Database containing thousands of electrical material items and pre-built assembly kits through EPIC NetPricer.
Intellibid offers location-specific vendor pricing, letting you estimate material prices according to the purchase location. It also features a JobTrack tool to help manage projects that are in progress. Intellibid is available in four versions: IntelliBid, IntelliBid PLUS, IntelliBid PRO, and Intellibid Design Build.
Features:
Industry-Smart database
Bid management and closing
Document management and reports
Accounting interfaces
Advanced estimating
8. BuilderTrend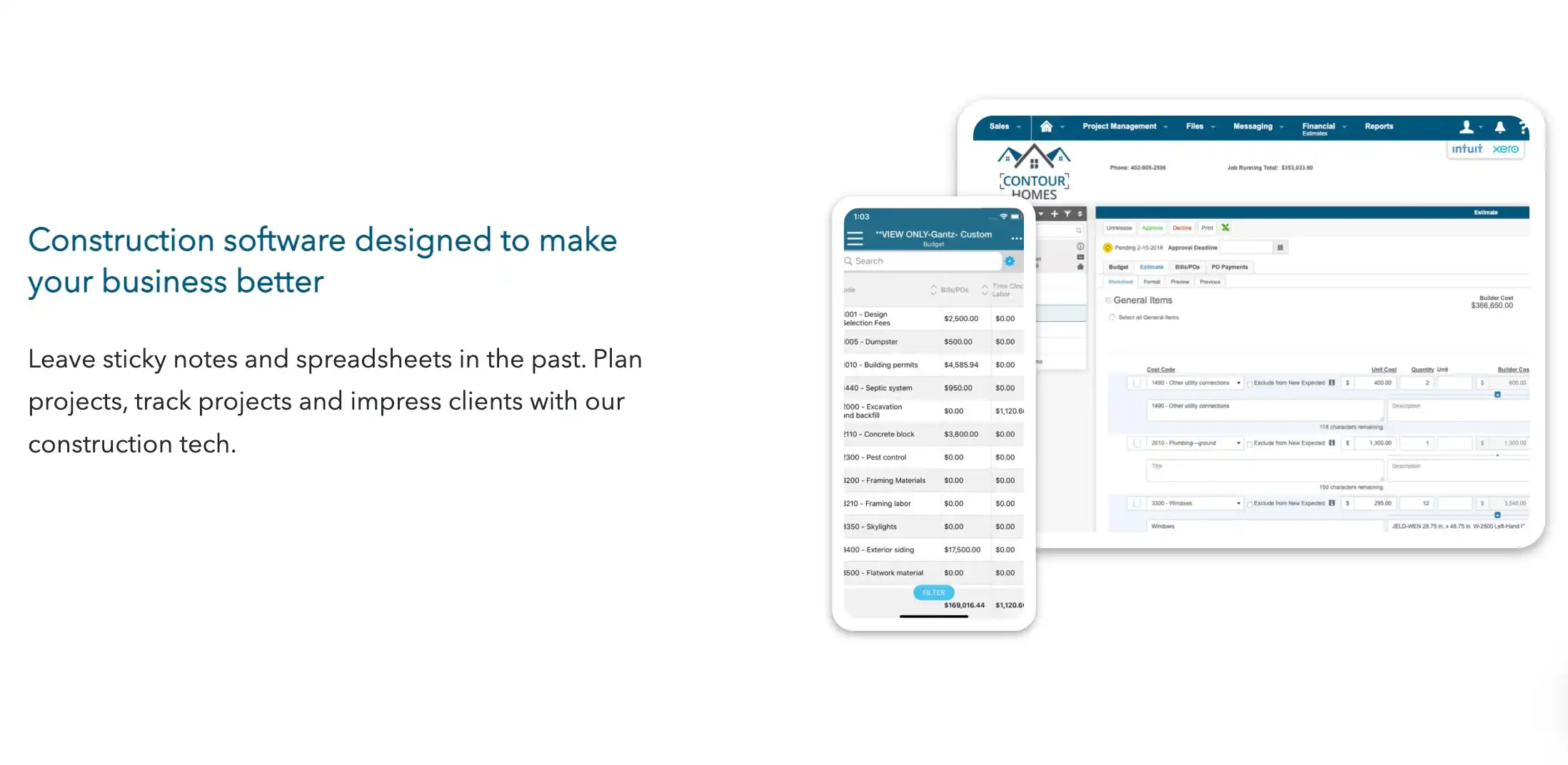 Pricing:
Essential plan starting at $99 per month; Advanced plan starting at $399 per month; Complete plan starting at $899 per month.
Summary:
BuilderTrend works well for home builders, remodelers, commercial developers, and specialty contractors. Its full suite of products offers pre-sales and project management.
The program centralizes communication with homeowners so you can easily share progress updates with clients. And for estimating, you can upload digital blueprints and measurements for accurate estimates.
BuilderTrend allows your team to create and update schedules with automatic updates. Finally, because it's cloud-based, you can access it from any device with a web browser.
Features:
Single portal to centralize communication
Accurate estimating
30-day money-back guarantee
Covers pre-sales and project management
9. BuildXact

Pricing:
Entry (estimating only): $149 per month; Pro: $249 per month.
Summary:
BuildXact focuses on the construction management needs of small contractors. It includes takeoff, project management, and accounting features.
BuildXact has an excellent user interface and offers a free 14-day trial. The app has a client portal that helps builders prioritize leads, track purchase orders, and produce accurate takeoffs and estimates.
You can also schedule work teams and material deliveries. And the program creates financial reports to track payroll and profits.
Features:
Client portal for access to all features
Pre-built templates and price list imports for accurate estimating
Takeoff, project, and accounting management
Free 14-day trial
10. SigmaEstimates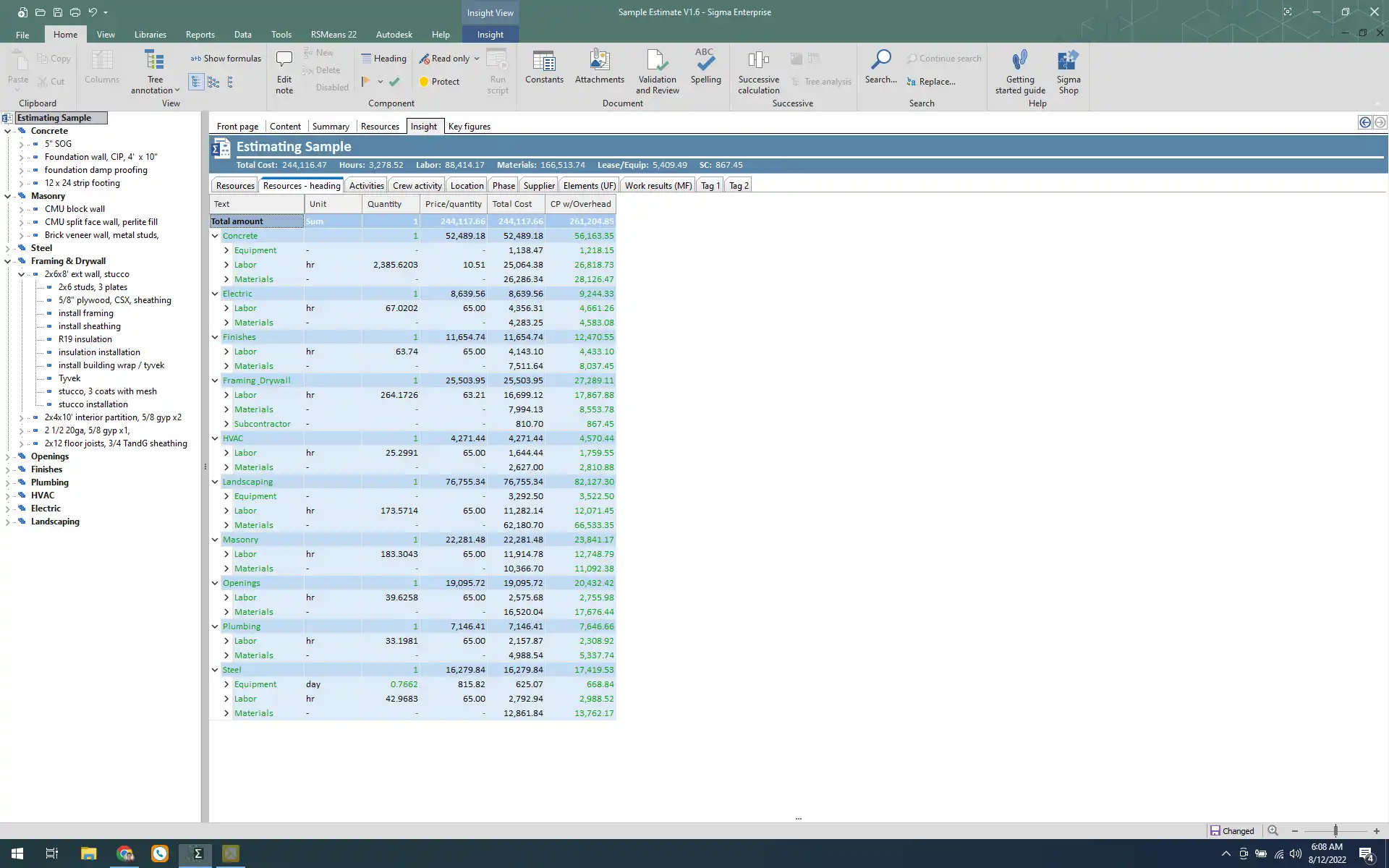 Pricing:
Sigma Professional: $1380/year Sigma Enterprise: $1980/year
Summary:
SigmaEstimates works well for subcontractors and general contractors. It's a powerful estimating tool that is Windows based and integrates well with other Windows-based products. With an interface similar to Microsoft Excel, it's a great choice for users with Excel or Microsoft experience.
SigmaEstimates generates estimates, creates an overview of the stakeholder environment, and calculates supplier prices. It can also create templates, printouts, and integrations as needed.
Features:
User experience similar to Excel
Estimates for all projects
Cost database, lists, and recycling
Quantities and drawings from 3D models
11. Procore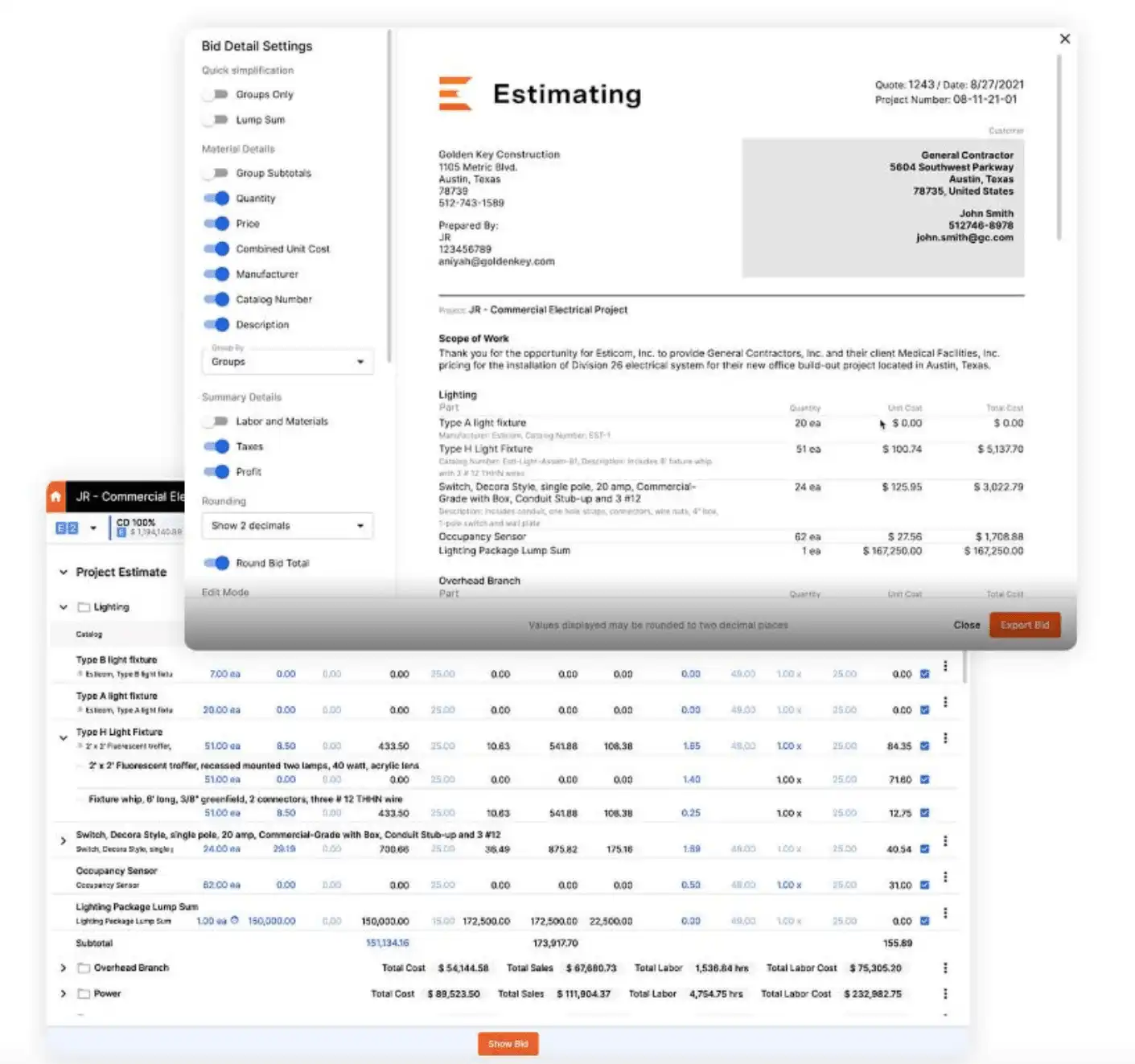 Pricing:
Connect Field and Office plan starts at $667 per month; Manage Projects and Financials plan starts at $870 per month; Maximize ROI plan starts at $1182 per month.
Summary:
Procore offers management of your project from planning to closeout. It gives you a unified view of project performance, including resources and financials. Additionally, its centralized dashboard allows you to manage project details, scheduling, and progress.
Procore offers an app that integrates with other partner apps, enabling superior communication with teams working on a project.And it offers phone support, email support, and a knowledge base to help improve usability.
Features:
Centralized dashboard
Integration with partner apps
Communication and sharing across teams
12. Clear Estimates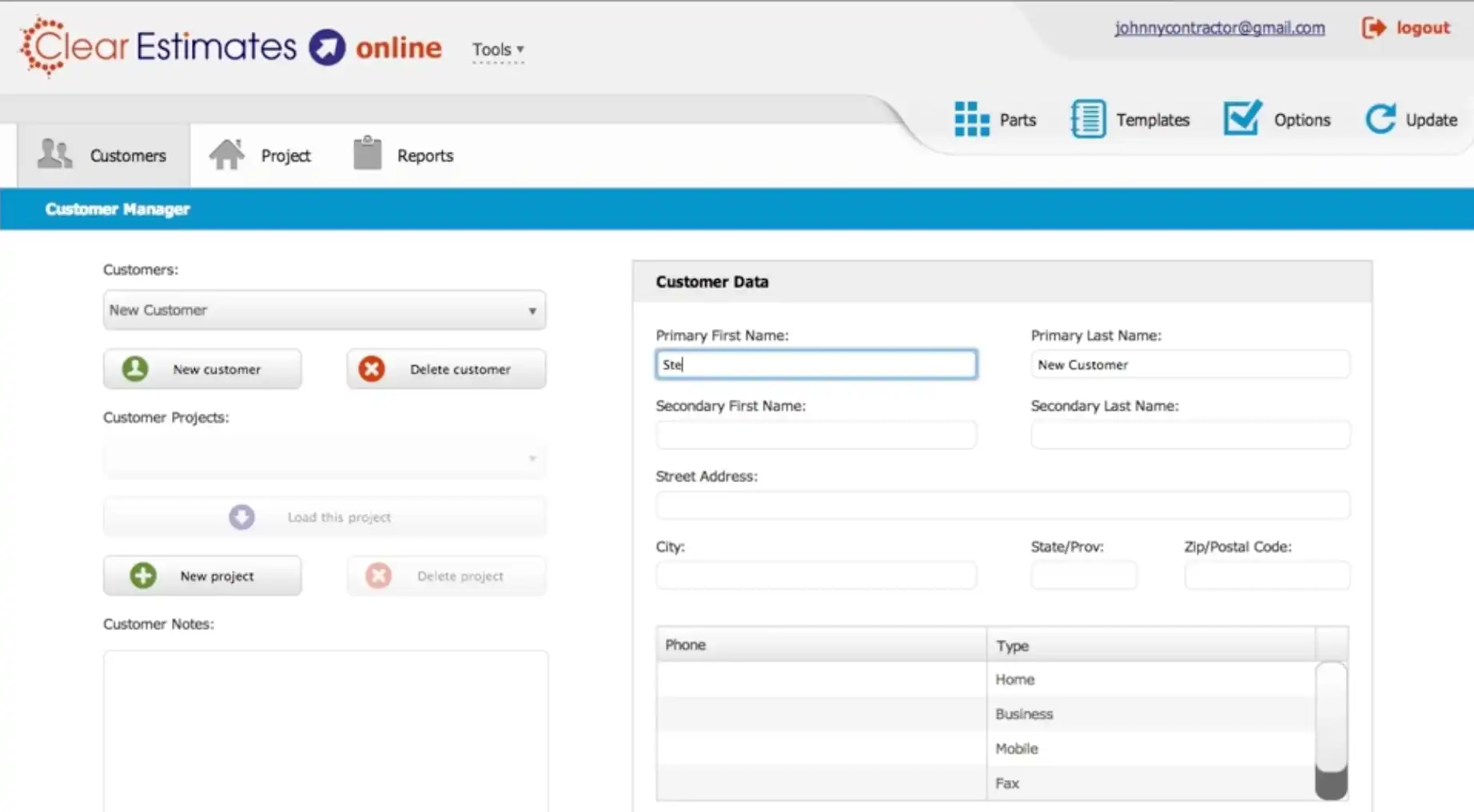 Pricing:
$59 - $249 per month.
Summary:
Clear Estimates are great for smaller construction or contracting companies. Its low starting price makes it a smart choice for companies that don't have a big budget.
Clear Estimates partners with RemodelMAX for area-specific material and labor costs. Using this data, the program specializes in extremely accurate estimates based on local prices. It also offers templates with a basic framework for generating bids.
Features:
Focuses on accurate estimates
Partners with RemodelMAX for accurate local pricing on material and labor costs
Attractive starting price for smaller contracting companies
30-day free trial
13. Contractor Foreman
Pricing:
Starting at $49 per month.
Summary:
Contractor Foreman offers an easy-to-use platform at an affordable price. It's good for smaller and medium trade general contractors offering contract management with real-time collaboration. It also features daily logs to inform you of weather, safety, and team productivity.
Contractor Foreman creates and sends professional and accurate estimates. It also includes a knowledge base and a helpful customer support team to help you navigate the platform easily.
Features:
Affordable starting price
30-day free trial
Gantt (CPM) scheduling and daily logs
Integration with Outlook, Google, QuickBooks, Gusto, and AngiLeads
14. Autodesk Construction Cloud
Pricing:
Edition 1, $49 per year; Edition 2, $69 per year; Edition 3, $129 per year; Edition 4, contact vendor for pricing.
Summary:
Autodesk Construction Cloud includes a portfolio of products, including Build, BIM Collaborate, Takeoff, and Docs. The portfolio brings office and field teams together from the beginning to the end of a project.
Autodesk Construction Cloud aims to connect workflows, teams, and data in the designing, planning, construction, and operations stages of construction.
Features:
Portfolio of products for comprehensive services
Affordable starting price
Integrates with other estimating products such as ProEst.
5 Must-Have Features for Construction Estimation Software
Considering construction estimation software? It's not easy to find platforms that have everything you want. Plus, some features are better than others. But these five features will help you get the most out of your construction estimation software.
1. Takeoff
Takeoff is a list of the quantities and amount of labor needed for a construction project. The takeoff list leads to the creation of the estimate and bidding.
Takeoff software should include:
Using project blueprints to find material, quantity, and part requirements
Collaborative features that allow users to share notes
A "request for information" function for questions that arise
Storage of assemblies within the program for future reference
2. Estimating
Estimating approximates the costs associated with the project in as much detail as possible. Teams can use the takeoff list to create extremely accurate estimates.
Estimating features to look for include:
Templates to show cost estimates
A pricing database that shows up-to-date supplier costs
Integration with takeoff software (unless your software has takeoff capabilities built-in)
Item details that store specific information like costs and quantities
Pricing updates
Formulas for area or volume calculations
3. Bidding
After the estimate is complete, the bid is the next step. Look for the following features to make the bidding process smooth.
Bidding features to look for include:
Proposal generator that uses the data input into the program
Subcontractor portal to share bid information
Comparison feature to see multiple bids side by side
Scheduling calendar for the many steps involved in the project
Management system for multiple bids
Way to analyze change request costs
4. Integration
You want to ensure that the chosen software integrates smoothly with other needed software or tools. For example, if you purchase estimation software, you'll want to know what takeoff or construction management programs work best with it.
Also, if you have particular programs that you or your company favor, such as Microsoft Excel, it's worth exploring if the software you purchase is compatible. Alternatively, you can use low code to quickly build integrations between these systems and move your construction company away from excel.
5. Accessibility
Construction estimation software is usually cloud-based or desktop-based. The type that will work best for you depends on your business, goals, and needs.
If you want remote access to your data across multiple devices, a cloud-based program is the way to go. Cloud-based programs are also a good choice if you want multiple team members to access the program.
If you favor desktop programs or have a team devoted to technology or a strictly on-premise system, desktop software may work better.
How Much Does Construction Estimation Software Cost?
For cloud-based software, construction estimation software can range from free to $250 per month (or more). Free versions are limited in what they can do. They'll give you basic functionality, but likely won't meet all the needs of your business.
Paid versions of the software will give you features that can really make an impact on your business. You'll likel want to pay for the extra features as the time spent manually completing those tasks (or the headache from other tools and disparate data capture) will cost you more.
Desktop versions of construction estimation software cost more than cloud-based programs. This is because it's a one-time installation. You own the product after that. Desktop construction estimation software range from $600 to $5,000 (or more).
Considering the features these platforms provide, the reduced costs and errors from more accurate estimates, and the overall positive improvement of your business, it's well worth the investment to use construction estimation software.
Remember: All it takes is one mistake on an estimate that can snowball into a dissatisfied customer, bad reviews, and a tarnished business reputation.
Construction Estimation Software vs. Bidding Software
You might be a little confused by all the different types of construction software out there. While there is an overlap between construction estimation software and bidding software, they refer to two different things.
Let's look at each.
You use construction estimation software to provide accurate estimates for a given project. The software will typically use takeoff information such as costs for materials, supplies, and labor to create a line-by-line, detailed account for the estimate.
Bidding software continues where the estimate leaves off. Once the estimate is established, you create the proposal or bid.
Bidding involves more complexities than estimating, so the software has to take other factors into accounts such as subcontractor costs, scheduling, and customer relationship management.
You need to choose the right software for your needs.
If you want accurate estimates, then estimation software is the choice. For solid proposals to present to your customer, bidding software is the way to go.
How to Choose the Best Construction Estimation Software
If you invest in construction estimation software, there are some considerations you should make before choosing your program. The financial investment can be hefty. It can take time to train your staff. And if developers don't keep the platform current, it can turn dated quickly.
Considering all that, you want to be prepared. Here's how to choose the best construction estimation software.
Examine the Features
There are a lot of construction estimation software programs out there with an endless list of features. The choices can be dizzying, so be sure to go into your purchase knowing what you want the program to do.
Whether it's a takeoff, estimating, bidding program, or one that includes a combination of the three, consider what you need to make your business successful. Make sure you don't go overboard by purchasing more than you need.
Feature-rich programs are enticing but not always necessary. Make sure your team will use all (or most) the features before spending more on a platform that you may not need.
Ask About Support and Customer Service
Support and customer service aren't the same for all software companies. Consider if you want phone service, chat support, email support, training videos, or a knowledge base.
Also, find out when support is available. If you're expecting 24/7 support, make sure the company offers it. Nothing can be more frustrating than constantly waiting for answers to your questions and solutions to your problems.
Explore the Set-Up
Finding out how easy the software is to set up is key. If it's too hard or takes too much time, your team may not use it. Sign up for a demo before purchasing any software. Ask the right questions. And check the website for a knowledge base or FAQ.
Research their Reputation
You need to know the software company's reputation before investing your money. The easiest way is to read the reviews the company receives. Customer reviews can tell you a lot about the product, so do your research before buying.
You can find reviews on these sites:
Consider User Experience
Check the interface of the software. Is it easy to use for anyone on the team, or do you need an IT department to produce an estimate? A more complicated program may do more. However, if you have to spend hours trying to figure out how to use it, it may not be worth it.
Also, consider cloud-based vs. desktop. If you need accessibility across multiple devices, you should consider cloud-based. You'll need a desktop application if your business operates on-premise only.
Discuss the Pricing
This may seem obvious, but figure out the exact cost of the software. Is it a monthly subscription or a one-time payment? Are there additional charges? Any one-time fees? A platform may seem more affordable at first, but once you add on the extras, you find that you're paying way more than you originally thought.
Some programs offer a free trial so that you can test out the program. If you're getting a free trial, keep track of when the free trial ends. Make sure you're ready to commit before you get pulled into a payment.
How to Start Estimating Construction Projects
Construction estimating software gives contractors the tools they need to provide customers with accurate and reliable estimates. It's an indispensable part of the contractor's toolkit that will save your business time and money.
When considering the purchase of estimating software for contractors, you should know what you want the program to do, do your research, and plan for any future expansion you may need.
It's a necessary investment to help your company grow. More competitors are onboarding digital solutions daily to streamline their business operations. You must consider investing in automated solutions if you're worried about operational costs, data silos, and waste.
Check our case studies below and see how we've helped businesses scale growth while improving their margins.