The Minimalist Guide to Navigating the Frustrations of Procure to Pay
How Any Size Business Should Approach Procure to Pay
The more components in the system, the greater the chance for something to go wrong. And as any company grows in size, the need for streamlined procure to payment processes grows with it. Numerous employees, various departments, and a wide range of requirements exponentially increase the possibility of failure.
6,500 hours in extra labor annually – the cost of ineffective procure to pay processes.
Any sized business needs a way to effectively order materials and pay for services. Without overbearing oversite or numerous errors. Dodging these obstacles with an effective procure to pay process (P2P) is vital for the growth of any business. But it isn't as straightforward as you might think. Here is an overview of what the P2P process is, the obstacles your company may face, and how you can overcome those problems to effectively grow your company.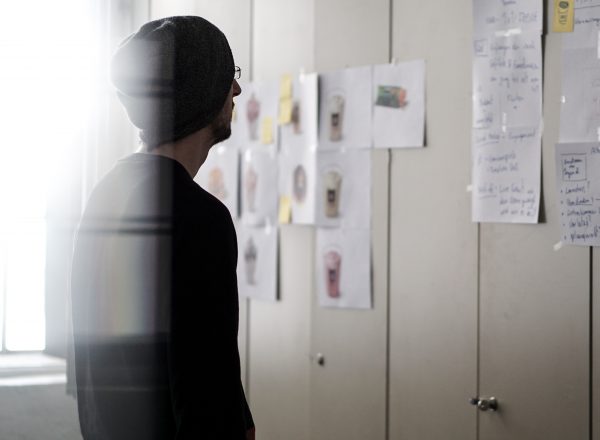 What Is Procure to Pay?
It's best the think of procure-to-pay as a process, not as a technology. In a nutshell, it involves requesting, purchasing, collecting, and providing payment for goods and services required by a business to function.
But as a process, there are multiple components and steps along the way. And with any business, there are also additional steps for oversight that happen along the way as well. This means that while purchasing might be one step of the process, providing order confirmations and creating invoices will need to happen along with that step.
And this only gets more complicated with more moving pieces as a company grows.
An Overview of the P2P Process:
To better understand what this process looks like, it helps to see the P2P process as a sequence of steps. Keep in mind that the P2P process rarely flows in a straight line. There are often steps that happen simultaneously along the way.
The Steps of P2P
Evaluation: A department discovers a need and evaluates potential goods/services that will fulfill that need.
Requisition: An employee completes paperwork for goods/services required and files for approval.
Review: Department head/executive reviews requisition and either approves or denies the request.
Purchase Order: Unless the purchase is a unique or rare instance that can be handled with a spot buy, a PO will be created.
PO Approval: PO goes to the appropriate authority for approval. Once approved, it is sent to vendors.
Vendor Approval: Vendors will review PO and either accept, reject, or negotiate the order.
Evaluation: Buyer inspects goods/services. The buyer's performance is also evaluated for future interactions. Details of the quality of the goods, services, and performance get recorded to create a record and base for future transactions/negotiations.
Invoice Approval: Once the goods/services are evaluated and accepted, an invoice gets dispatched to the finance department.
Payment: The finance department pays the invoice provided it meets terms and conditions.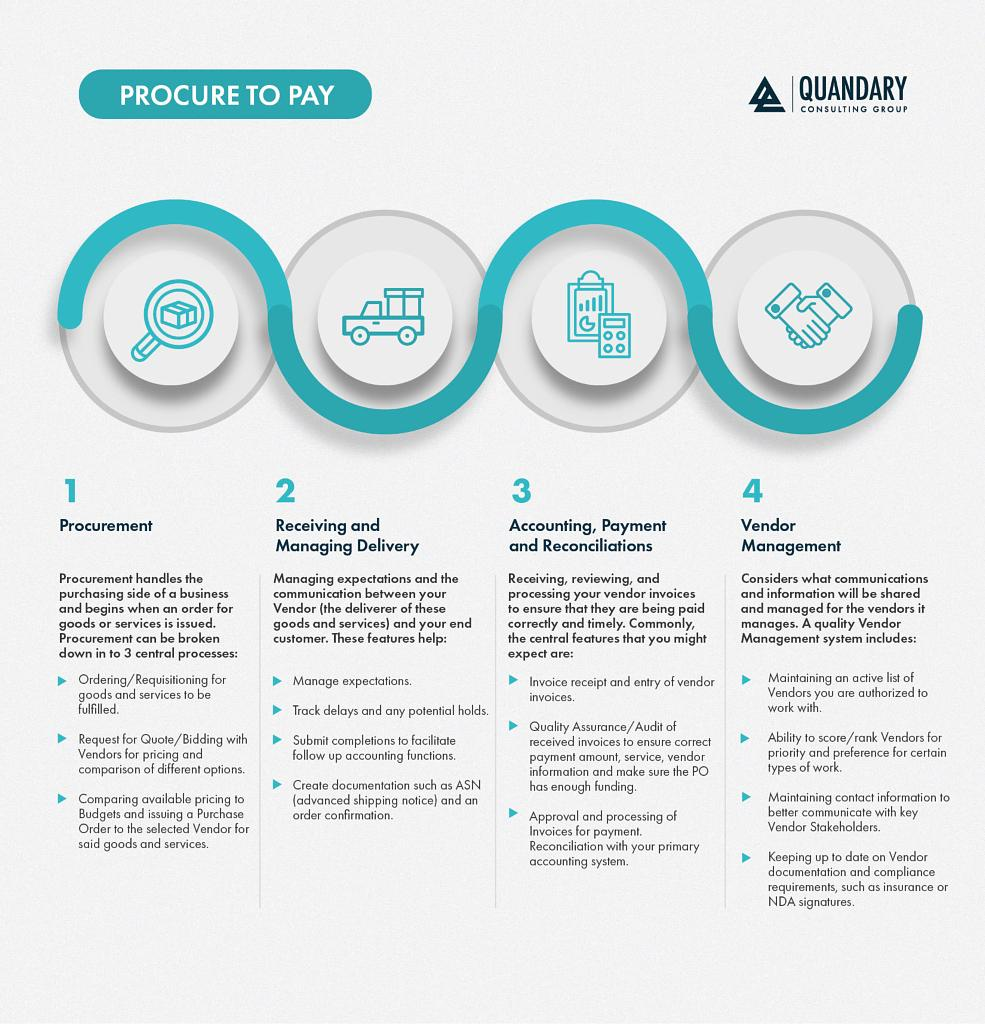 How Software Facilitates the P2P Process
With so many steps in the P2P process, it's not surprising that software exists to help facilitate the process. Typically speaking, many companies use the P2P software incorporated into their ERP. This means they'll have some way of monitoring the order process, POs, invoices, inventory, approvals, payments, etc. However, this is not without its own problems.
P2P processes vary greatly from business to business. Some only need the bare minimum while other companies have so many moving parts and oversight that they may need help managing these processes. And niche companies with custom processes will need something tailored specifically for their business.
Traditional ERP software provides a cookie-cutter approach to P2P. Businesses with limited resources opt to best utilize that option for their ERP model. And where it falls short, they rely on manual processes like email and spreadsheets to fill in the gaps. And this can create problems.
Challenges with Procure to Pay
To best understand why most ERP suites fail to adequately manage P2P, it helps to look at the challenges that burden the procure-to-pay system.
Apathy: Management often views procurement as menial and tedious instead of as a strategic process. Ineffectively, costly processes run rampant and limit growth. Hackett reports that effective procurement businesses see a reduction of 21 percent in labor costs and ROIs as high as 10x than peers.
Unifying Systems and Processes: Depending on the size of the company, different departments tend to manage procurement differently. With multiple systems in one organization, communication becomes challenging. And data becomes hard to collect and implement in a way that paints a uniform image of the company.
As a result, processes rely more on manual labor, raising costs from both the time required and mistakes made by the human component.
Minimal Compliance/Governance: When a system has multiple moving parts and no coherence, it follows that there will be difficulty monitoring what happens in the system. Maverik spend increases along with other damaging practices that can ruin a company's bottom line.
Failure to Adopt: Despite tech becoming easier to use, new systems often have a high learning curve initially. Procurement systems can also provide a notoriously difficult UX. Any system adopted by a company needs universal acceptance for it to yield the predicted results.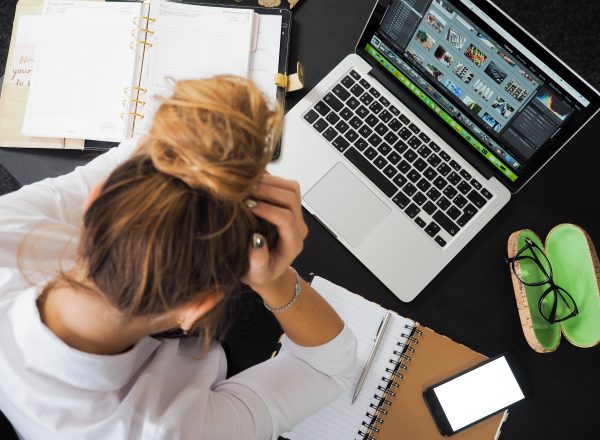 How to Reduce Costly Errors and Increase P2P Efficiency
On the surface, it appears that adopting a P2P software solution that would best suit your business would be the best solution. However, it's not as straight forward as that either. An effective procure-to-pay solution needs to meet many criteria.
It should be mobile, flexible, easy to adapt, and agile. Agility and mobility require cloud-based solutions. And to ensure the solution you choose meets universal adoption across your company, it requires a pleasant UX.
There's a lot at stake here. Ineffective systems promote bottlenecks, inefficiencies, maverick spend, and even fraud. So, how do you find a procure-to-pay solution for your business that allows you to reduce waste while promoting efficiency and oversight?
You need experts in procure-to-pay solutions. Quandary Consulting Group excels at leveraging the power of Quick Base and the ease of use Workato provides to build custom procure-to-pay solutions. Discover the mobility and security you've been waiting for with automated procure-to-pay solutions. For more information on the types of tools and strategies available, contact us today.
Latest Updates
Need a custom solution to your business problem? Let's chat.
Call us for a free consultation at
(720) 739-1406
or email us at
info@quandarycg.com