For the past 5 years, Quick Base has held an annual user conference in June. The event is called Empower and Quick Base typically does just that, "empower" their customers with several learning sessions, arming them with the resources they need to turn their ideas into custom business apps. This year was our company's first time attending as sponsors and they did just as great hosting their solution providers as they did hosting us as customers in years past. Quick Base didn't cut any corners and made sure to emphasize the fun environment that can be found in learning. We were not alone in feeling blown away by this year's Empower conference. Here's our booth, all set up on day one: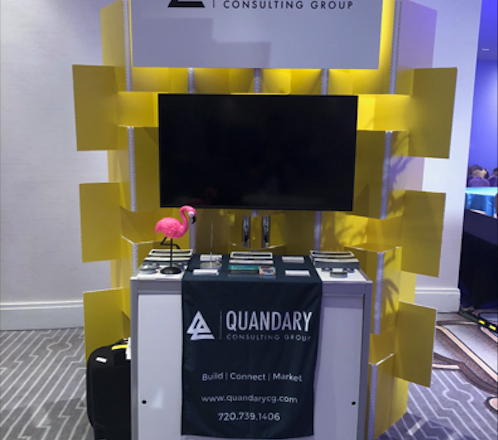 The location of Empower changes each year, but they always stick to a theme that amps up the fun and keeps their attendees thoroughly entertained. The whole thing was charged with blue, purple, and pink neon lights, lit up palm trees, and fluorescent pink flamingos. This time, since the event took place in Miami, the Cuban influence was evident.
The first day kicked off with a Hora Loca dancing troupe that paraded through The Exhibit Hall, successfully cranking up the excitement for the event to a 10! This Miami-style welcome and all proceeding Empower events took place at the gorgeous, oceanfront hotel, Fontainebleau Miami Beach. Our team settled into our booth which was conveniently located next to the bar. Smiles and swag were gifted to all who came near! We were so happy to meet all the excited Quick Base customers and talk shop a bit that first day. Quick Base did an incredible job keeping the energy and enthusiasm high.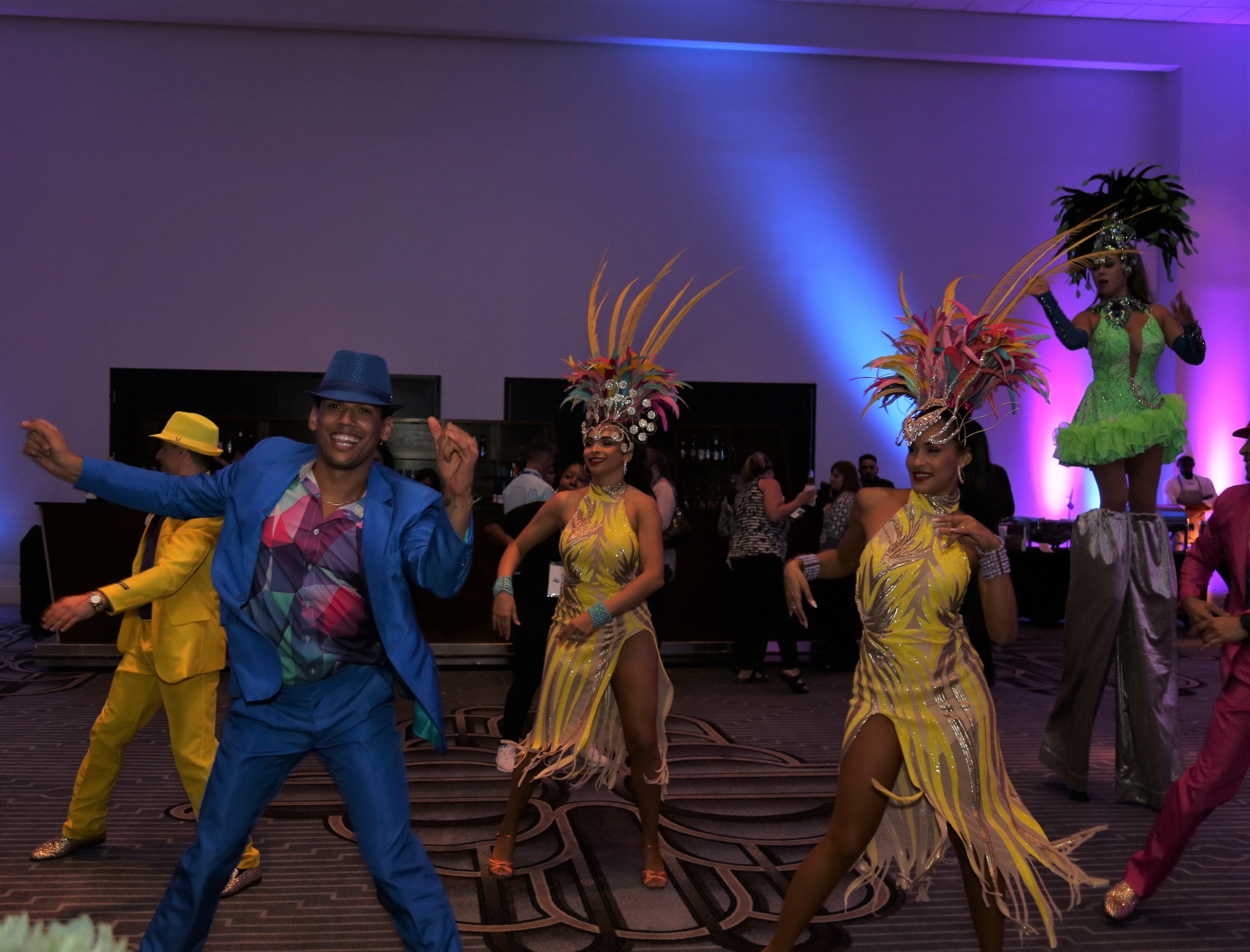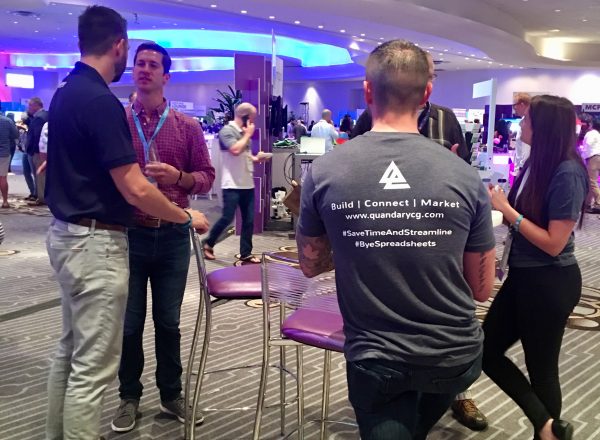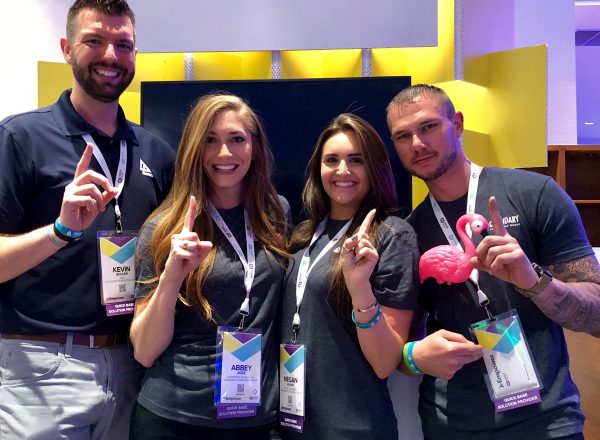 Pictured: Quandary Consulting Group posed next to our booth at the 'number one' Sponsor to visit at Empower 2019.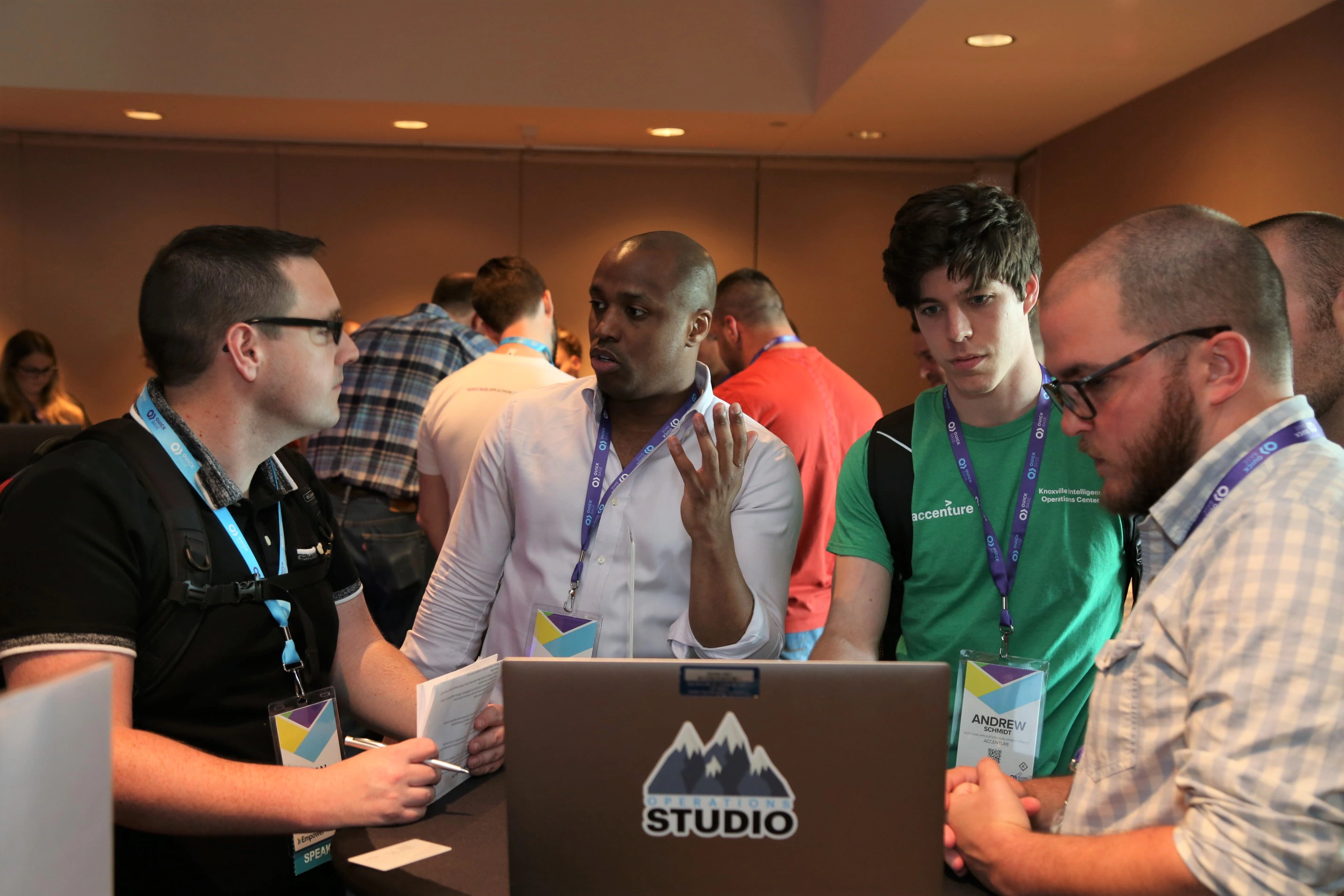 Since Quick Base is a platform for building custom applications, what better way to amp up their customers than to host an app-building challenge? Monday also featured the fourth annual Quick Base App-a-thon kicking off with an announcement of the building prompt. Development teams competed for the $5000 grand prize. After 6 hours of building, three teams advanced, hopeful to win the App-a-thon.
Tuesday, June 11th featured The Quick Base Customer Awards, industry round-tables, and kicked off the Breakout Sessions. Originally, Quick Base created Empower as a unique event and "place for our customers to get inspired and energized by their peers and to learn about significant new offerings we will be announcing and sharing at the event". The second day of Empower successfully did just that.
Heather Bryant, the IFM Platform Manager from Able Services was given the Hero Award.
According to Quick Base, her innovation had become part of her job. She empowers entire teams and businesses with the confidence and courage needed to make a real impact on their organizations and the QuickBase community.
The next day, we had the opportunity to learn more about her inspiring story and also heard from others who had created a major impact on their organizations with Quick Base.
Image may contain: 3 people, people smiling, people standing and suit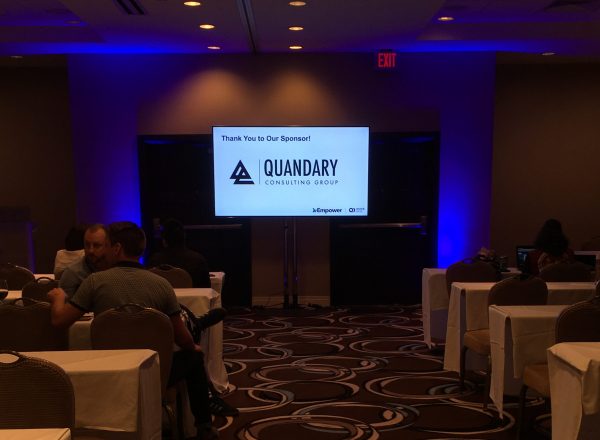 Another highlight from the second day's events was hosting our very own Networking Session! We were proud to sponsor the session, "Establish a Culture of Continuous Improvement with Quick Base". It featured a panel of operations and process excellence leaders who discussed the importance of establishing a culture of improvement across an organization. This session provided strategies for identifying priorities and problem areas, measuring impact and linking improvement initiatives to top-level business strategy.
People were very interested in learning how to create intuitive and customized applications tailored to people's needs in a way that encouraged 100% adoption. Considering our company's brand and mission, this was an awesome topic to be associated with.
We loved talking to people during the networking sessions and were blown away by the genuine curiosity and candor that the guests of this event championed. Many people came to us with questions about how coding could make their apps more robust and directly solve more of their company's big-picture business pains. We loved offering our insight as well as encouraging them on their quest to continue innovating with Quick Base.
Wednesday, June 12th kicked off with the Women's Leadership Breakfast, where we learned how women can leverage their Quick Base knowledge to establish themselves as leaders in their organizations. Did you know that over half of Quick Base builders are women? We were pleased to hear more and joined this year's Speaker, Julian Gutherie. The best-selling author, keynote speaker, and journalist who had written on the successful women in the tech world of Silicon Valley.
Later on Day 3, We got to hear from Jay Jamison, the SVP of Strategy & Product Management. The product keynote was very informative and exciting! The audience let out a few pleased gasps and claps when certain features were announced, including the ability to access Quick Base apps in airplane mode and dark mode! After that, we got to hear more specific details about the inspiring stories from the employees who champion Quick Base at Southwest, Zimmer Biomet, Able Services, and New Orleans 9-1-1.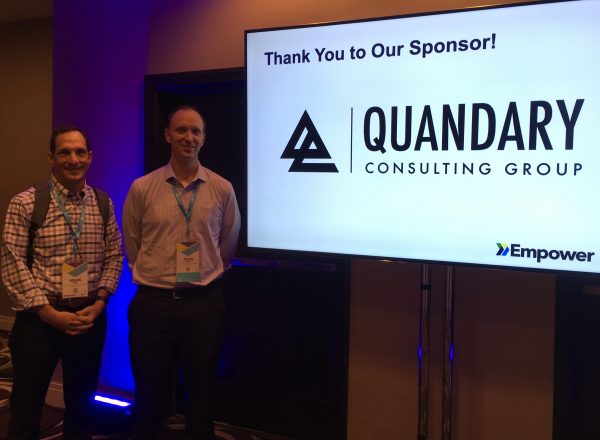 Pictured: Speakers John Coffey, Director of Product Marketing and Erich Wehrmann, Best Practices Consultant pose with the Quandary slide after the Networking Session on Tuesday.
All together our first year as sponsors at Empower was definitely a hit! The location was beautiful, the event app was easy to navigate, and the food provided was top-notch. The event was packed with Quick Base staff who were ready to connect us with resources, point us in the right direction, or offer a logo-clad gift. We walked away with new perspectives and a much better feel for the kind of business pains we'll become vital for solving in the future. We had a great time getting to know all of the spirited and intelligent people who rally around this awesome software platform. We are looking forward to attending next year! For now– that's a wrap on Empower 2019!
Thinking of attending Empower next year? Read their full guide for even more juicy details!
Free Ebook!
5 Ways To Improve Your Business Immediately
The easiest steps a business can take to optimize growth is by streamlining its monotonous daily processes. Understanding automation will allow your business to thrive in the 21st century!
Latest Updates
Need a custom solution to your business problem? Let's chat.
Call us for a free consultation at
(720) 739-1406
or email us at
info@quandarycg.com