April 2019 Release Notes
The April 2019 Release introduced further enhancements to the Visual App Builder which was featured back in the March 2019 Release notes as a whole new way to create and update apps by simply dragging and dropping items onto the page.
The new enhancements now support multiple choice and multi-select text fields in which you can now add or edit all the properties for these fields from within Visual Builder.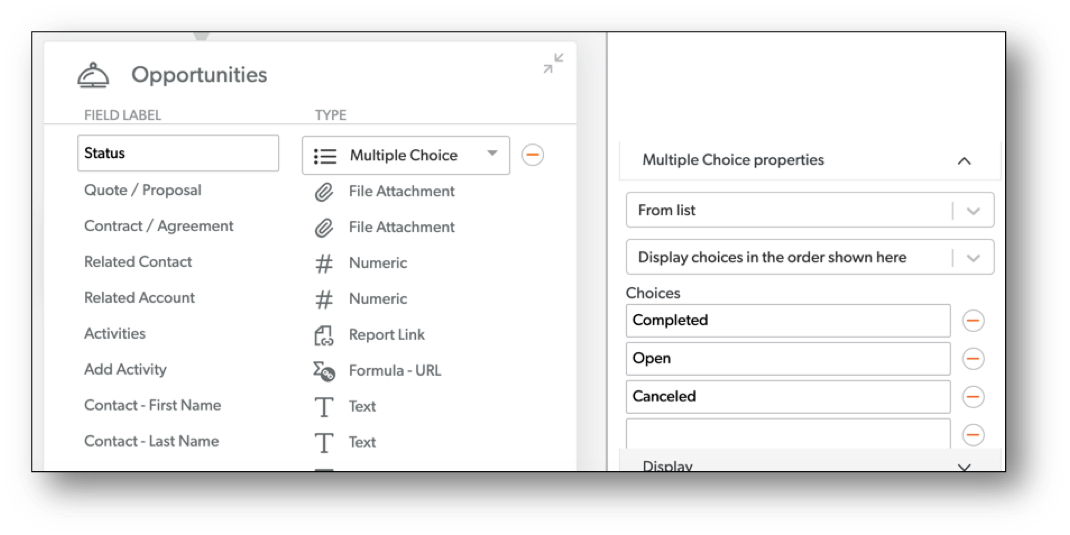 For a more in-depth breakdown of the design and set up for the Visual Builder – see the Quick Base blog centered around it.
Among the other highlights from this release:
Report Formulas In Charts:
Similar to how report formulas can be used to include calculations, special filtering, or sorting and grouping, you can now use report formulas in charts to affect the following chart behaviors: coloring bar graphs, creating wedges in pie charts, and filter events in a calendar.
Admin Console – Password Resets and User Management
Now, password reset emails expire after fifteen minutes. This addition in time will allow users to be more efficient in resetting their passwords as well as allow email security software to run properly, without interfering the reset process for the user. Secondly, it is now possible for admins to have the option to provision a new user with a username, along with the first name, last name, and email address.
Distinct Counts Option Available for More Field Types
Distinct Count has now been expanded to include other field types with the exception of file attachment, predecessor, iCalendar, vCard, report link, list user, and multi-select text. To read in more detail about the entire April release and the other features included, click here.
May 2019 Release Notes
The May 2019 Release notes were pretty light as nothing was featured this month in preparation for Empower 2019. Check back for the June and July releases post-Empower to see what new features are announced and deployed after the event. Here is what was mentioned:
In the mobile app, the top menu bar has been placed in a fixed position while users scroll through their app.
Support cases can now be submitted through the mobile app. To open a new case, select Submit support case from the More menu with the three horizontal dots.
Audit logs can now access code pages.
To read in more detail about the entire May release and the other features included, click here.
Learn More!
Follow us on Facebook, Instagram, Twitter, and LinkedIn!
Don't have Quick Base yet? Sign up today for a free trial.
If you want help with your app, get a complete audit of one of your Quick Base applications for $100.
Free Ebook!
5 Ways To Improve Your Business Immediately
The easiest steps a business can take to optimize growth is by streamlining its monotonous daily processes. Understanding automation will allow your business to thrive in the 21st century!
Latest Updates
Need a custom solution to your business problem? Let's chat.
Call us for a free consultation at
(720) 739-1406
or email us at
info@quandarycg.com