Quickbase Release Notes April 2020
New Features
Pipelines:
Earlier this year Quick Base introduced Pipelines and announced additional integration channels that would be rolled out slowly to everyone. Quick Base has added five new integration channels to Quick Base Pipelines for April that they have said will be the conclusion of the final roll out of Pipelines:
Salesforce
Marketo
Microsoft OneDrive
Outlook 365 (Email and Calendar)
JSON Handler
To see the full list of available channels and how to connect through Pipelines, click here.
Webhooks Channel Improvements in Pipelines:
Quick Base has provided an update to their webhooks by now allowing builders to send a request body for "GET" and "DELETE" Webhook Requests.
To learn more about Webhooks and how to configure them, visit the Quick Base support page, here.
Relationship Builder New Experience Toggle:
The toggle that allows users to switch between the old and new relationship builder is going away. The new relationship builder will be the only viewing experience users have access to.
Quick Base Sync Updates: Gmail Connections
Google is pushing new requirements for Gmail connections in connected tables in Quick Base. Quick Base has not been specific on what these changes are; however, existing Gmail connections may fail and will need to be reauthorized by the connection owner. Here are some easy steps to reauthorize a Gmail connection:
Select the user drop-down on the global bar, then select My Preferences.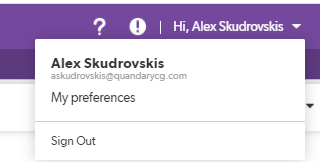 In the My Connections section, select the Gmail connection you want to reauthorize.

Finally, select the Reauthorize button and sign in to your Gmail account.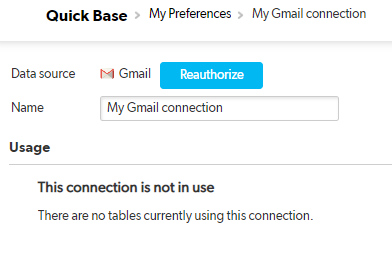 Early Access and Bug Fixes
New early access opportunities for April include the ability to turn on/off mobile applications to be available to users when they are offline, add records to applications when disconnected from the internet, and bulk record sets – batch records instead of processing each record individually.
Continued early access opportunities from May include RESTful APIs and a new table report feature.
Note: if you are not familiar with what RESTful APIs are, it is essentially a way for two computer systems to communicate over HTTP in a similar way to web browsers and servers using specific REST conventions.
Developers can use and extend Quick Base with ease by using fully RESTful API calls. To learn more about this, click here.
The new table report interface provides an updated way to view, filter, sort, and group Quick Base data. As most new features, Quick Base will slowly roll out early access in waves to customers. If you are interested in signing up for all upcoming new features to Quick Base, click here, and select Using Apps under the Early Access Categories.
Bug fixes this month were focused primarily on Sandbox, the Quick Base developer tool for testing application changes before roll-out in live applications.
To view the full list of all the latest bug fixes made in March, click here.
---